REAL FINANCIAL LITERACY: THE HISTORY OF THE WALL STREET MELTDOWN
PIRATES ARE PIRATES ARE PIRATES​
BANKS TOO BIG TO FAIL 
Though the concept of Banks Too Big  to Fail has only come into popular culture in recent years, the creators of this website had been painstakingly researching this trend which has actually been occuring for decades. Banks didn't suddenly become too big to fail.
This trend and evolution has been happening for many years. This chapter and its many sections below has compiled all the research of the "how" and the "why" of this disturbing trend so that readers and researchers don't have to waste many years trying to figure out this puzzle.
The information in this chapter and in its many sections on the history of too big to fail banks has been curated carefully over the years and will provide readers with a treasure chest of information that enables them to make sense of how we have gotten where we have. 
FROM THE BIG SHORT "I now realized there was an entire industry, called consumer finance, that basically existed to rip people off." - Steve Eisman

 
One would have had to have been in a coma for the past eight years not to realize there has been an ongoing Wall Street banking conspiracy in the United States. The Government Accountability Office (GAO) tallied it up and found it amounted to $16 trillion in secret loans from the Federal Reserve – an unfathomable bailout never approved by Congress. On May 20 of last year the U.S. Justice Department documented a vast conspiracy by global banks in the foreign currency markets with the banks admitting to the felony charges. The former heads of Federal regulatory agencies have written books about the conspiracy. Frontline and Sixty Minutes have produced documentaries on it. Banking whistleblowers have organized to fight it in an effort to save the country. A major motion picture, The Big Short, was released this year which put one aspect of the conspiracy into layman's language and was based on a book by Wall Street veteran, Michael Lewis. Wall Street On Parade has chronicled the ongoing banking conspiracy for the past decade.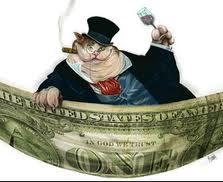 The FDIC is often appointed as receiver for failed banks.  This includes information on the acquiring bank (if applicable), how your accounts and loans are affected, and how vendors can file claims against the receivership.
 Failed Financial Institution Contact Search displays point of contact information related to failed banks. This list includes banks which have failed since October 1, 2000. To search for banks that failed prior to those on this page, visit this link: Failures and Assistance Transactions
MAKE SURE YOU SEE THE CURRENT FDIC FAILED BANK LIST
Failed Bank List - CSV file (Updated on Mondays. Also opens in Excel - Excel Help)
2016 How 37 banks became 4 banks (from 1996 to 2009)
WEASEL WAIVERS
2015 SEC grants regulatory waivers so they can get away with it.
U.S. securities regulators will release new guidance on how they decide whether a company should retain leeway in raising capital, after criticism that such waivers are too often rubber-stamped for banks that have broken the law. 
One such privilege is the ability to be a "well-known seasoned issuer" or WKSI -- a status that lets a company continually raise capital more readily without prior SEC approval. Another privilege, which is widely viewed as the most important for large U.S. companies and banks, is an exemption under "Regulation D Rule 506." This rule lets companies raise an unlimited amount of private capital without being required to register it with the SEC.
WORLD'S 100 BIGGEST BANKS - DEPENDS ON WHO DOES THE ACCOUNTING!
2/12/14 Largest 100 banks in the world
In fact, if US banks were to use the IFRS system JPM and BofA would take the number one and two spots respectively. Citigroup, now 14th with $1.899 trillion, would be the world's 5th largest bank. Most of the world including the European Union and China use a system dubbed International Financial Reporting Standards, or IFRS. The U.S. meanwhile uses Generally Accepted Accounting Principles, or GAAP. Under IFRS banks report the gross amount of derivative assets on their balance sheets, while U.S. GAAP standards say banks must report the net amount of derivative assets.  The difference is significant when it comes to tallying bank assets. In fact, if US banks were to use the IFRS system JPM and BofA would take the number one and two spots respectively. Citigroup, now 14th with $1.899 trillion, would be the world's 5th largest bank.
12/23/13 If the U.S. banks reported under IFRS it would look like this.
10/15 True 'Lehman Moments' Must Clear These Hurdles
It isn't a Lehman Moment If people are calling it one.
Unless somewhere in Germany there is a Landesbank up to its neck in trouble.
If the endangered firm has a friend in its hour of need.
if the CEO isn't issuing denials and reassurances, or blaming speculators.
if it doesn't contaminate an entire industry.
JP MORGAN CHASE'S TWITTER FEED SUMS UP HOW AMERICANS FEEL ABOUT WHERE WE ARE FINANCIALLY AS A PEOPLE AND AS A NATION
I am a huge dick That skull fucks Americans With their own money
​I have Mortgage Fraud, Market Manipulation, Credit Card Abuse, Libor Rigging and Predatory Lending.
AM I DIVERSIFIED?  #AskJPM
BEFORE 1980:
REMEMBER HOW HEALTHY AMERICA'S ECONOMY USED TO BE
"A Wagner Act for Public Employees": Labor's Deferred Dream and the Rise of Conservatism, 1970–1976 PDF

JERRY WURF the president of the American Federation of State, County, and Municipal Employees from 1964 to 1981, speaks with characteristic passion at a 1972 union conference. 
In the early 1970s, Wurf spearheaded the drive for federal legislation to guarantee government workers a minimum wage, overtime pay, and collective bargaining rights.
AMERICA HAD A NATIONAL DEBT, OF LESS THAN 1 TRILLION DOLLARS, WAS THE WORLD'S LEADER EXPORTER OF MANUFACTURED GOODS,  WAS FILLED WITH GOOD PAYING UNION JOBS.

As the 1970s began, public workers in the United States were participating in the most profound union upsurge since the 1930s. Sanitation workers, teachers, fire fighters, and others were flocking into unions, creating the promise of a liberal political resurgence during the presidency of Richard M. Nixon. Halting the growth of public sector unions became a crucial task for the emerging conservative movement of the mid-1970s, argues Joseph A. McCartin.

Labor's unsuccessful effort to pass a national collective bargaining law for state and local employees illustrated both the growing divisions within the Democratic coalition and the growing strength of the conservative activism that later helped usher in the era of Ronald Reagan. (pp. 123–148)​​
HOW DID WE GET FROM WHERE WE WERE TO THE AWFUL MESS WE ARE IN RIGHT NOW?
Enter President Ronald Reagan from January 20, 1981 to January 20, 1989 and Economist Milton Friedman. ​
President Reagan and his staff between 1981–1989 broke the unions and brought on deregulation.

Law exists for two reasons, to take your money or your land.

Corporations exist for one reason, take your money.

With no regulations and no oversight to protect the commons, the Church of Corporate Greed went wild.

The rest, as they say, is history. There is ample more research for you to sift through in this "Too Big To Fail" section to make clear the transition that took place and how we got to where we are now.

John C. Whitehead, a Wall Street banker who led Goldman, Sachs & Co.'s graduate of Haverford College and Harvard University was responsible for the international expansion in the 1970s and '80s. Whitehead joined Goldman Sachs in 1947 and worked his way to senior partner and co-chairman before leaving 38 years later to become deputy secretary of state under President Ronald Reagan. He also served as director of the New York Stock Exchange, chairman of the Securities Industry Association and chairman of the board for the Federal Reserve Bank of New York.  In 1985, he was appointed by Reagan as deputy secretary of state. He remained in the Department of State's No. 2 position under Secretary George Shultz until January 1989.
Eight years of the Bush administration produced the largest upward shift of income in American history. 
According to the Center on Budget and Policy Priorities (September 9, 2009), 
​two-thirds of the nation's total income gains from 2002 to 2007 flowed to the top 1% of US households.
Of the 1%,
by the 1%,
for the 1%
CHRONYISM AND COLLUSION
Why Isn't Wall Street in Jail?
Financial crooks brought down the world's economy — but the feds are doing more to protect them than to prosecute them. All of this paints a disturbing picture of a closed and corrupt system, a timeless circle of friends that virtually guarantees a collegial approach to the policing of high finance.
But even beyond that, the system is skewed by the irrepressible pull of riches and power. If talent rises in the SEC or the Justice Department, it sooner or later jumps ship for those fat NBA contracts. Or, conversely, graduates of the big corporate firms take sabbaticals from their rich lifestyles to slum it in government service for a year or two. Many of those appointments are inevitably hand-picked by lifelong stooges for Wall Street like Chuck Schumer, who has accepted $14.6 million in campaign contributions from Goldman Sachs, Morgan Stanley and other major players in the finance industry, along with their corporate lawyers. As for President Obama, what is there to be said? Goldman Sachs was his number-one private campaign contributor. He put a Citigroup executive in charge of his economic transition team, and he just named an executive of JP Morgan Chase, the proud owner of $7.7 million in Chase stock, his new chief of staff.
BANKS TOO BIG TO FAIL, NAIL AND JAIL
1956 The Organization Man and Groupthink and the Corporate Culture by Journalist William Whyte.
 | 2008 | 2009 |  2010 | 2011 - 2013 | 2014 | 2015 | 2016
The twenty scariest minutes of TV seen 2007 pundits scoffing accurate predictions about the economy



Black Swan author says 2007 economy worse than Depression

The Slow Burn: If you thought The Matrix was only a movie, think again.
The slow burn is a political culture and economy managed through principles of economic warfare. One of the most important aspects of the Paulson Plan to re-engineer US financial regulation is the assertion of complete control of payment systems by the Federal Reserve and gaining access to the data of essentially any financial institution.

 
HOW VOTING IS RIGGED SO THAT THE 1% CAN MAINTAIN THEIR POWER
Sunday, October 05, 2008 More on N.J. Judge Linda Feinberg Sequoia Voting Systems Cover up
Andrew Appel writes "The AVC Advantage can be easily manipulated to throw an election because the chips which control the vote-counting are not soldered on to the circuit board of the DRE. This means the vote-counting firmware can be removed and replace with fraudulent firmware."
Sunday, October 12, 2008 Voting in 2008 A Report by Common Cause and the Century Foundation 
The report, "Voting in 2008: 10 Swing States," examined what, if any, progress has been made since 2006 in seven battleground states: Florida, Georgia, Michigan, Missouri, Ohio, Pennsylvania and Wisconsin.
Thursday October 2, 2008 Judge Suppresses Report on Voting Machine Security
Three weeks after we delivered the report, on September 24th Judge VOTE FRAUD - NJ - Judge Feinberg ordered us not to release it. This is part of a lawsuit filed by the Rutgers Constitutional Litigation Clinic, seeking to decommission of all of New Jersey's voting computers.
11/2009 Sequoia Voting Systems has inadvertently released the SQL (Structured Query Language) code for its voting databases. The existence of such code appears to violate Federal voting law.
Saturday, October 25, 2008 Trilaterial Commission and Voting Machine Fraud
Who owns Sequoia Voting Machine. Investor Group acquires Sequoia Voting Systems from Smartmatic through a leveraged buyout source.
July 23, 2008 ELECTION VOTING FRAUD
New York 50 Percent of Sequoia Voting Machines Flawed. Don't allow vendors hack the vote.
POLITICS
HOW LAWS ARE MANIPULATED SO THAT THE 1% CAN CONSOLIDATE THEIR POWER
The Social Security Act of 1935, was 28 pages, arguably one of the biggest social programs ever devised.
7/18/2010 The Finance Reform Bill is 2,319 pages. The broadest overhaul of U.S. financial rules since the Great Depression won final approval in the Senate on Thursday. By a vote of 60 to 39, the Senate gave final approval to a sweeping measure that tightens regulations across the financial industry. Senator Feingold standing alone among the Democrats in voting against this. It's a sweeping bill, but the major parts of it the Volcker rule, and Lincoln rule, have been severely watered down, the derivatives business stays the same as before. http://www.cnbc.com/id/38262799
September 3, 2008 Palin Republican nominee for VP Harry Truman said about People in Public Office. Shame and Scandal in the Family.
September 2, 2008 Bristol Palin, Levi Johnson, Govenor Sarah Palin: Do 18 year olds process that facebook is public? What are the technology standards for senior High School students? Bristol Palin Levi Johnson Sarah Palin Pregnant John McCain VP Republican.
Sarah Palin's Husband Did Not Want Wife to be Mayor: evidence of Palin daughter Bristol baby daddy and now husband who never wanted Palin to be the mayor.
ecp_url
Financial-Literacy/Financial-Literacy-Bail-Out.html