What Do You Think You Know About Money?
What Do We Teach The Kids?
IT IS NOT A CONSPIRACY THEORY WHEN YOU CAN SHOW PROOF OF STRATEDGY!
EVERY
FINANCIALLY
LITERATE PERSON
SHOULD BE ABLE
TO ANSWER
these questions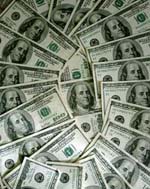 ✔ Do you know the difference between teaching Financial Literacy skills to kids and giving them "educational" (read, marketing) materials?
✔ Do you recognize "too good to be true" Madoff style investment pitches or what credit card and loan offers look like?
✔ Can you explain the difference between stocks and bonds?
A stock gives its holder an ownership interest in the business, while a bond makes its holder a lender to the company. The former participates in the company's upside potential, as higher earnings lead to a higher share price; the bond's owner is entitled only to a string of interest payments and only if the company defaults on those can it acquire any ownership stake (via a bankruptcy proceeding) in lieu of recouping his loan and in place of the interest income.
High School Investments

Personal Finance  Class
K-12 Financial literacy curriculum financed by Banks and taught in the K12 Schools across the nation:
is considered important, since young people are increasingly making decisions about purchases and will have to decide if going to college is worth the amount of debt they will be taking on. 
✔ Does your local area public or charter High School offer classes in the business department or electives in investment and personal finance?
✔ Do they offer a pre-law class that teaches students legal principles centered around personal and business finances with a focus on the use of credit cards and the risks associated with accumulating debt?
The Quest to Improve America's Financial Literacy Is Both a Failure and a Sham
Financial literacy promotion may sound perfectly sensible — who wouldn't want to teach children and adults the secrets of managing money? — but in the face of recent research it looks increasingly like a faith-based initiative.
Overview
The Precariat - The Shared Economy and living under lowering the rage rates of everyone. 
Chasing Slave Labor World Wide - The 20th century Union Model can not work in this century.
Living under the .001% WEALTHYIEST
Guy Standing, co-President of the Basic Income Earth Network and author of The Precariat: The Dangerous New Class, to discuss the problem of declining incomes, automation of many jobs, and the rise of the Precariat. As a possible solution to the problem of ever fewer high paying jobs, they discuss basic incomes - the arguments for and against.
✔ Top 1% holds 40% of our nation's wealth & top 20% holds 93% of it.
Infographics on the distribution of wealth in America, highlighting both the inequality and the difference between our perception of inequality and the actual numbers. The reality is often not what we think it is.
THE PUBLIC DEBATE

IS SHAPED
BY THE RICH
​PRIVATE INTERESTS SHAPING PUBLIC EDUCATION FINANCIAL MISEDUCATION
See the Federal Reserve K12 Curriculum
See the 2012 Contracts from the Department of Education
Since 2002, the number of states that require students be tested on their economics coursework has dropped from 27 to 16.
In 2013 only 14 states require students to take a personal finance course in high school; 22 require a course in economics. But all this information could be integrated into social studies, math, english and geography.
All these F'ing geniuses: Ezra Klein, expert-driven journalism, and the phony Washington consensus 9/14/14
Ever wonder why the eCONomic experts never seem to change, keep coming back, despite racking up such shattering failures as the housing bubble and the financial crisis and the bank bailouts? Ever wonder why a guy like Larry Summers gets to be chief economist at the World Bank, then gets to deregulate Wall Street, then gets to bail Wall Street out, then almost gets to become chairman of the Fed, and then gets to make sage pronouncements on the subject of—yes— inequality? It's for the same bad reasons: Because D.C. worships expertise and because Summers, along with a handful of other geniuses, are leading figures in a professional discipline dominated by what a well-informed observer once called a "politburo for correct economic thinking."
Of the 1%
By the 1%
For the 1%A system that accords treatment based on who someone is, rather than what they've done, is the opposite of one conducted under the rule of law. It is, instead, one of systemic privilege.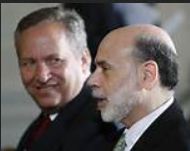 Larry Summers explains Washington to Elizabeth Warren in one sentence:  
"In the spring of 2009, after the panel issued its third report, critical of the bailout, Larry Summers took Warren out to dinner in Washington and, she recalls, told her that she had a choice to make. She could be an insider or an outsider, but if she was going to be an insider she needed to understand one unbreakable rule about insiders: 'They don't criticize other insiders.'"
Like the Wall Street tycoons whose systemic fraud triggered the 2008 global financial crisis, Hillary Clinton who is backed by Wall Street  is a protected insider. It's rigged! Winners bail out Winners not losers.
INSIDERS DON'T PROSECUTE OTHER INSIDERS
Ultimate Insider: FBI Director James Comey, an Obama appointee who served in the Bush DOJ condemned Clinton on the ground that she and her colleagues were "extremely careless in their handling of very sensitive, highly classified information," including Top Secret material. Comey explained, the FBI is recommending to the Justice Department that Clinton not be charged with any crime. "Although there is evidence of potential violations of the statutes regarding the handling of classified information," he said, "our judgment is that no reasonable prosecutor would bring such a case." It is NOT his place to say who is "resonable"! 
CLINTON VIOLATED HER OATH TO PROTECT AMERICA
FBI DIRECTOR JAMES COMEY took the unprecedented step of publicly preempting a Justice Department prosecution when he declared that "no reasonable prosecutor" would bring a case against Hillary Clinton for her use of a private email server.  Comey also said there was no intrusion at all even though there had be reports that Guccifer hacked Clinton's account. Guccifer hacked the DNC plans.
WORK AROUND Clinton's FBI interview was not recorded or under oath
Hillary Clinton did not swear an oath to tell the truth before meeting with the FBI for three and a half hours last weekend, and the interview was not recorded, FBI Director James Comey told House lawmakers on Thursday.    The lack of a sworn oath does not remove the possibility of criminal penalties against Clinton if she lied to the FBI, though he said he had "no basis to conclude" that she was untruthful.  ADVERTISEMENT "Still a crime to lie to us," Comey told the House Oversight Committee. FBI policy is not to record interviews as part of its investigations.  Yet the revelations will nonetheless raise questions among Republicans, who have been skeptical of the FBI's investigation and have demanded to see the transcript of the former secretary of State's interview.
Comey cited "the context of a person's actions" and her "intent." Hillary showed no "intent."
We guess that she accidentally installed a server in her home, then accidentally wiped it clean during an investigation.​
The FBI's job is to investigate crimes; it is Justice Department prosecutors who are supposed to decide whether or not to move forward. But in a case that had enormous political implications, Comey  decided the FBI would act on its own. "Although the Department of Justice makes final decisions on matters like this, we are expressing to Justice our view that no charges are appropriate in this case," he said. Prosecutors could technically still file criminal charges, but it would require them to publicly disagree with their own investigators.
The Obama-appointed FBI Director gave a press conference showing that she recklessly handled Top Secret information, engaged in conduct prohibited by law, and lied about it repeatedly to the public. But she won't be prosecuted or imprisoned for any of that. 
Those who wield the greatest political and economic power are virtually exempt from the rule of law even when they commit the most egregious crimes, while only those who are powerless and marginalized are harshly punished, often for the most trivial transgressions. 
Attorney General Loretta Lynch was widely criticized for meeting with former President Bill Clinton while his wife was still under investigation said she would accept whatever recommendations career prosecutors and the FBI director made when they presented them to her.  
Meanwhile the Clinton aide looks to keep immunity deal a secret. People have their lives destroyed for the most trivial – or, worse, the most well-intentioned – violations of secrecy laws.
FINANCIAL LITERACY

is a HOAX
2010 WHERE WERE THE JOBS IN AMERICA
eCONomists: This is why Piketty matters: Davos and the real story about eCONomists and the 1%
They were not consistently disclosing their own affiliations outside academe that could compromise their impartiality. 
Out of these 19 prominent economists—all of whom gave "expert" advice to the media and public about financial reform—the "vast majority of the time, [they] did not identify [financial] affiliations and possible conflicts of interest." This was also true when the economists published their work in academic journals.  For elite economists, agility in affiliations may be the norm, not the exception. In addition to an academic post, having some attachment to a big public body like the IMF, World Bank or a Federal Reserve Bank can afford them prestige and benefits. An association with a private firm may bring additional standing, not to mention money.  I believe that failures of disclosure—an abuse of the public trust—is why elite economists have taken such a drubbing. And emphasis here on the word "elite." It's not clear just how many of the 20,000 economists who belong to the American Economic Association amass multiple roles and defy transparency.
Salon.com/2015/02/01/this_is_why_piketty_matters_davos_and_the_real_story_about_economists_and_the_1_percent/
Warren on JP Morgan
7/14 Warren destroys Yellen over JPMorgan and its living will.
[Video + Transcript 7:40] Warren noted that at the time of its bankruptcy, Lehman had $639 billion in assets; today, JPMorgan has nearly $2.5 trillion in assets. Warren also said that Lehman had 209 subsidiaries when it failed; today, JPMorgan has 3,391 subsidiaries, or more than 15 times the number Lehman had when it went under. Before delivering the stat about how many subsidiaries JPMorgan has, Warren said, "I almost couldn't believe this when I read it." In response, Yellen said the Fed is continuing to work with firms to give them feedback regarding their plans, a response Warren wasn't thrilled with, asking Yellen, "[Has JPMorgan] ever gotten to a plan, which you can stay with a straight face, is credible?"

Democrats should run Elizabeth Warren for president. Warren captures the concerns of a lot of people in this country with economic security.
ARE THE FED'S MOTIVES NEUTRAL?
THE ORIGIN OF THE CENTRAL BANK ALSO CALLED THE 
FEDERAL RESERVE

THE FED'S K12 CURRICULUM DOESN'T PROVIDE EXAMPLES OF THE POLITICS THAT INFLUENCE ITS DECISIONS 
THE FED'S K12 CURRICULUM
DELIBERATELY LEAVES OUT MANY ESSENTIAL PIECES OF INFORMATION ABOUT ITS OWN ORIGIN AND HISTORY
THAT ARE ESSENTIAL FOR A FINANCIALLY EDUCATED CITIZENRY
BUT ARE NOT IN THE BEST INTEREST OF THE FED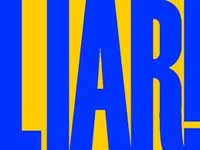 THE STATED FEDERAL GOVERNMENT MYTH IN THE OFFICIAL K12 CURRICULUM
✔   WHAT THE OFFICIAL FEDERAL RESERVE CURRICULUM FAILS TO INCLUDE
The Federal Reserve Act was passed illegally under a cloak of secrecy and was started by an elite group of private bankers.
INTERDISCIPLINARY FACTS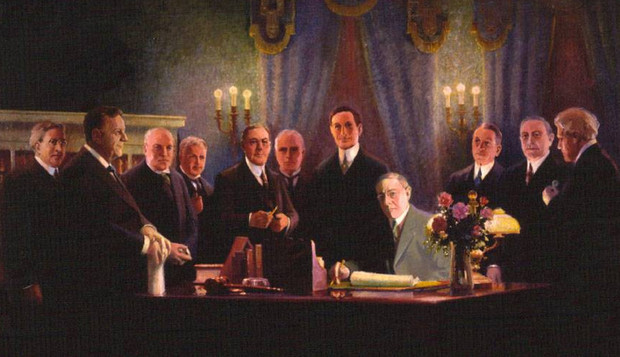 President Woodrow Wilson signing the Federal Reserve Act in 1913
Source Woodrow Wilson Birthplace Foundation painting by Wilbur G. Kurtz Sr.
HOW THE PAST AND PRESENT 'CONNECT'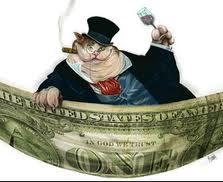 1/26/14 Tom Perkins, billionaire co-founder of the venture capital firm Kleiner Perkins Caufield & Byers, who, in a Jan. 25, 2014 letter to the Wall Street Journal, likened the "progressive war on the American one percent" to the persecution of Jews in Nazi Germany. Perkins's comments tore across social media, and by last night he had been roundly condemned by just about everyone, including his old firm.​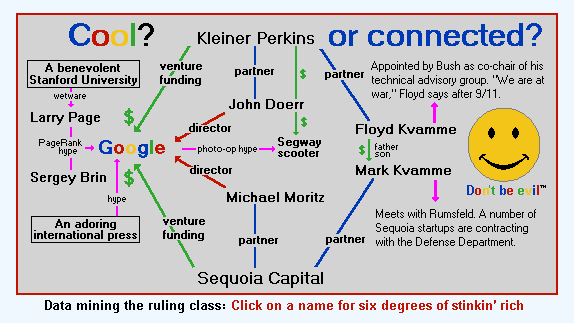 George Walbridge Perkins, Sr. is a direct descendant of the opium drug smuggler Perkins family.
The founding families of Skull & Bones included the Russell and Perkins families.
Over several generations, however, all these families heavily intermarried and became, in effect, one extended power grouping. considered themselves to be a special elite among the merchant banking and Puritan Pilgrim elite of Yale. 
These banking families paved the way for the founding of the privately owned Federal Reserve, which continues to implement policies in favor of the large private banks.
"RICH AS HELL" EXPOSE THE 1%
FROM OPIUM DRUG SMUGGLING PIRATES, WE MEET THE FIRST FAMILIES ALSO KNOWN AS THE BOSTON BRAHMINS WHICH THEN LEADS TO THE UNIVERSITY, SECRET SOCIETIES,  FRATERNITIES, TO THE HALLS OF THE SENATE, CONGRESS AND THE PRESIDENCY.
THERE ARE NO RULES FOR THE 1%, THERE ARE ONLY RULES FOR EVERYONE ELSE 
KNOW HOW THE WORLD REALLY WORKS
You're always better off and better prepared to make choices when you are able to recognize a predator when you see one.
John Kerry Secretary of State's "Forbes" ancestors were opium drug runners in China. The problems never change only the players.
Interview with Mario Draghi, President of the European Central Bank 12/17/2014
Q. What has proved to be most disappointing to you about the capitalist system since your student days?
A. Well, quite a number of issues can be mentioned in this respect. One of the disappointments is the latest financial crisis.
Q. The crisis of 2008?
A Yes, indeed. And then there is, how shall I put it, that predatory instability ... 
Q. What do you understand by predatory?
A. You know the saying "the winner takes it all." I do not regard that as being always right and proper especially in environments where social mobility is limited -- often the winners who take it all are the same people. Beyond any ethical consideration, this is bound to generate instability. 
<<Refer to Larry Summers Quantitative Easing bull$hit Fed$peak for creating money out of nothing with a computer keystroke for wall street banksters.>>

✔ The Golden Rule: Whoever has the gold makes the rules.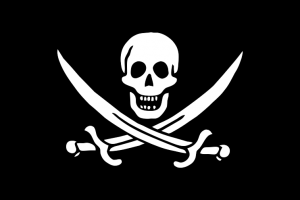 In 1832-33 Skull and Bones was launched under the Russell pirate flag.
The Order of Skull and Bones is a secret society founded at Yale by William Huntington Russell (S&B 1833). His cousin Samuel Russell's family enterprise, Russell & Company, was the largest American opium smuggler, working with the Scottish firm Jardine-Matheson, the world's largest. 
Many New England and Southern families in the "China Trade" sent their sons to Yale, and many were "tapped" into Skull and Bones. Taft, Russell, Schiff, Haremon, Bush, Warburg, Guggenheim, Rockefeller, Stemson, Weighouser, Vanderbilt, Goodyear and Pillsbury were all members.​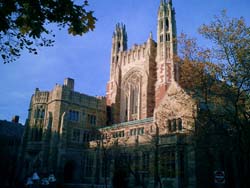 ACADEMIA 
MEET THE THUGGEE SECRET FRATERNITIES, SOCIETIES AND FINANCIAL INSTITUTIONS:
harnessed to move money for drug runners. 
SKULL AND BONES WAS LAUNCHED UNDER THE RUSSELL PIRATE FLAG.
From Yale, "Bonesmen" went into and were very influential in the worlds of commerce, communications, diplomacy, education, espionage, finance, law and politics.
2013 There have been three Skull and Bones Presidents (including our nation's  leader George W. Bush), at least 10 Senators, two Chief Justices of the Supreme Court and many US representatives and state governors. Bonesmen have held myriad lesser appointed posts and positions, with a particular affinity for the Central Intelligence Agency.
AND THE RICH CAN AFFORD TO GET HELP FROM WHITE SHOE LAWYERS

They have the money to buy the lawyers to avoid all the rules the rest of us can't escape.
Territorial sovereignty for the British Crown over two hundred offshore islands.
Which is how Hong Kong became a soverign British Territory. That is how Jardine set up the Shanghai Bank in Hong Kong for his opium money, which merged and became HSBC and gets caught laundering drug money in 2012.

All the while the British Virgin Islands continues to be where the rich hid their cash and the names have been unearthed in a novel project by the Washington-based International Consortium of Investigative Journalists [ICIJ], that proves the pirates offshore money maze is alive. The mega-rich use complex offshore structures to own mansions, yachts, art masterpieces and other assets, gaining tax advantages and anonymity not available to average people.

Many of the world's top's banks – including UBS, Clariden and Deutsche Bank – have aggressively worked to provide their customers with secrecy-cloaked companies in the British Virgin Islands and other offshore hideaways. A well-paid industry of accountants, middlemen and other operatives has helped Government officials and their families and associates help offshore patrons shroud their identities and business interests, providing shelter in many cases to money laundering or other misconduct.
The only thing banks sell is secrecy which is a much more important story than wikileaks every was.

Love your Country and stand with an angry prophet denouncing the hypocracies of our time. ~ Network 1975

Did you ever notice when "Forbes" prints its annual list of the richest Americans and you've never heard of most of them. That's right, they don't equate wealth with publicity. And you shouldn't either.

See China Curriculum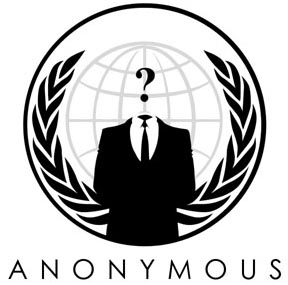 OCCUPY THE BANKS
REMEMBER IT IS NOT A CONSPIRACY WHEN YOU CAN PROVE STRATEGY
Lobbying firm Clark Lytle Geduldig & Cranford letter addressed to one of CLGC's clients, the American Bankers Association.

CLGC's PDF memo proposes that the ABA pay CLGC $850,000 to conduct "opposition research" on Occupy Wall Street in order to construct "negative narratives" about the protests and allied politicians.
HOW TO PROTECT YOURSELF, 
YOUR FAMILY, AND FRIENDS 
ONLY THE 1%
HAVE THE LAWS IN PLACE TO PROTECT THEIR PRIVACY 

ALL DICTATORSHIPS
START THIS WAY -- THE 99% HAVE NO PRIVACY 
The Institute for Policy Studies and the Center for Effective Government
The study's co-authors, said its findings reflected "deep flaws in our corporate tax system."  
Seven of the 30 largest U.S. corporations Boeing Co (BA.N), Ford Motor Co (F.N), Chevron Corp (CVX.N), Citigroup Inc (C.N), Verizon Communications Inc (VZ.N), JPMorgan Chase & Co (JPM.N) and General Motors Co (GM.N) paid more money to their chief executive officers last year than they paid in U.S. federal income taxes, according to a study. In 2013 they reported more than $74 billion in combined U.S. pre-tax profits, came out ahead on their taxes, gaining $1.9 billion more than they owed. <here>
Bernie Saunders quotes tatements by Pope Francis "We have created new idols, the worship of the golden cafe of old ...."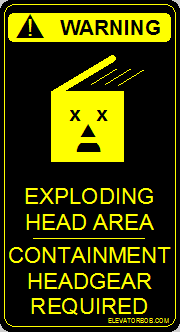 HOW TO PROTECT YOURSELF
THERE IS NO ECONOMY WHEN THERE IS NO TRUST
Who really benefits from financial literacy? "Is this an educational enterprise, or a marketing gimmick? It seems to be banks and financial firms that benefit most from these efforts to improve "literacy"; it's just another way for them to capture more clients.
BANKSTERS CHEAT - IT'S All RIGGED! NOTHING HAS CHANGED SINCE THE 2008 CRASH UNTIL TODAY
TODAY WE HAVE THE BAIL IN NOT A BAIL OUT !
IF YOUR MONEY IS IN A BANK ACCOUNT THEY CAN TAKE IT FROM YOU <GREECE IS AN EXAMPLE>
"These banks, which already possess enormous power just by virtue of their financial holdings – in the United States, the top six banks, many of them the same names you see on the Libor and ISDAfix panels, own assets equivalent to 60 percent of the nation's GDP – are beginning to realize the awesome possibilities for increased profit and political might that would come with colluding instead of competing. Moreover, it's increasingly clear that both the criminal justice system and the civil courts may be impotent to stop them, even when they do get caught working together to game the system." ~Matt Taibi
​WHAT IS THE BIG FINANCIAL LITERACY PICTURE?​
The Most Important Reading Skill is knowing How to Read Between the Lines!
The Government DOES NOT WANT an Informed Citizenry.
IT'S ALL ABOUT KEEPING YOU FROM SEEING THE BIG PICTURE
The root of evil. As we learned above it is 0.05% the 126 Americans who fund all the politicians.
Ted Talk Larry Lessig Reclaiming the American Republic from the corruption of election funding.
The tiniest number can block reform. Lobbiests at the center that feed on polarization. If there is one reason for financial literacy it is to learn that we can't ignore this corruption anymore.
All the politicians want Americans to be "Financially Literate" but more importantly they need the superpac money to keep their party in power and actually have no desire to reform the Banks responsible for the mess that put us all here in the first place.

FIX: Spread out the influence - Citizens must shrink K Street. The revolving door between a Government job and becoming a lobbiest.

Lobbying disclosures leave public in the dark Contracts provide inside look at Washington's influence industry
​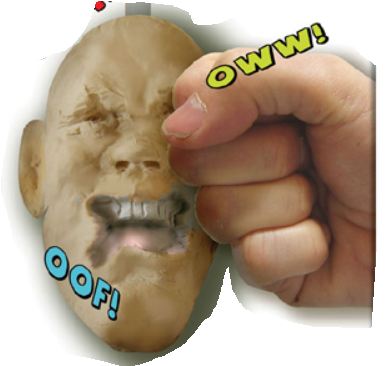 To sum up, Financial literacy programs don't work.  
Defining "financial literacy" and "outcomes" is more art than science.
 Financial education programs don't improve outcomes,because they tend to teach fundamental financial concepts rather than emphasizing behavioral economics and the politics of finance. In other words, They don't teach us "who" gets to define and manipulate these financial concepts. Financial literacy doesn't teach us about the financial elite who get to rig the financial system for their own benefit. The reason this doesn't happen is very simple: it's the financial elite who are sponsoring this financial literacy education so, of course, they don't want us to know.