THE BANK OF ENGLAND
Capitalism is doomed if ethics vanish, says Bank of England governor
5/27/14 Mark Carney issues strong critique of City behaviour and warns of growing sense that basic social contract is breaking down​. Capitalism is at risk of destroying itself unless bankers realise they have an obligation to create a fairer society, the Bank of England governor has warned.  Mark Carney said bankers had operated a "heads-I-win-tails-you-lose" system. He questioned whether traders met ethical standards and said that those who failed to meet high professional standards should face ostracism.  Speaking at a City conference, the Bank's governor warned that there was a growing sense that the basic social contract at the heart of capitalism was breaking down amid rising inequality. "We simply cannot take the capitalist system, which produces such plenty and so many solutions, for granted. Prosperity requires not just investment in economic capital, but investment in social capital."  In a strongly worded critique of City behaviour in the run-up to the financial crisis, Carney said market radicalism and light-touch regulation had eroded fair capitalism, while scandals such as the rigging of Libor markets had undermined trust in the financial system.  "Just as any revolution eats its children, unchecked market fundamentalism can devour the social capital essential for the long-term dynamism of capitalism itself. To counteract this tendency, individuals and their firms must have a sense of their responsibilities for the broader system."​
 
5/27/14 Financial Reporting Council: bank and building society audits not good enough
Bad debts could pose bigger risk than thought, watchdog warns in annual report on audit standards. The findings show auditors are still failing to check banks' books properly despite the big accountancy firms having come under fire after the crisis for having signed off lenders' books for years as risk built up in the financial system.
The Bank Of England was originally a private bank,
which contracted to lend money to the British Government in a financial crisis.
1694 The government of King William III was in desperate need of money. When learning of this situation, a man named William Patterson put together a cartel of wealthy men, of which he was the leader. Patterson and cronies agreed to loan the King 1,200,000 pound sterling, which would have been approximately 6 million dollars at 8% interest per annum on the condition that the king would grant 2 things:  
1) He would grant Patterson and his associates a charter which would name them "The Bank of England," and  
2) This bank shall have the "sole and exclusive right" to issue notes to the fullest extent of its capital.It was privately owned at its foundation and remained so until the post-war Labor government nationalized it in 1946.
The King literally granted the Bank of England the legal right to print all the money that would be used in commerce by the people and the government. In other words the Bank of England became the sole money source of any currency that was used in English commerce by either the people or the government. If they needed more money, they simply printed it. It is said that by 1698 British government owed 16 X 10 to the 6 power pounds sterling to the Bank of England. Keep in mind this was only 4 years.
So it is owned by the government? No.
Here is how Wikipedia explains it.
In 1977, the Bank set up a wholly owned subsidiary called Bank of England Nominees Limited, (BOEN), a private limited company, with 2 of its 100 £1 shares issued. According to its Memorandum & Articles of Association, its objectives are:- "To act as Nominee or agent or attorney either solely or jointly with others, for any person or persons, partnership, company, corporation, government, state, organization, sovereign, province, authority, or public body, or any group or association of them…."

Bank of England Nominees Limited was granted an exemption by Edmund Dell, Secretary of State for Trade, from the disclosure requirements under Section 27(9) of the Companies Act 1976 , because, "it was considered undesirable that the disclosure requirements should apply to certain categories of shareholders."
The Bank of England is also protected by its Royal Charter status, and the Official Secrets Act.
In other words, you and I are not allowed to know who the shareholders are who own the company which carries out Central Banking in the UK.

The information is secret. We are not allowed to know. But what would surprise everybody is that the Bank Of England, which is entitled to issue cash, then lend it and charge interest to the government, is still essentially a private business. What would also surprise people is so is the Federal Reserve of America a [privately owned bank, and all central banks of the world, including the Bank Of International Settlements in Switzerland, which is the Central Banks' clearing house. If the One World Government actually had an address, this would be part of it - the B.I.S, another privately owned bank, the central bankers' central bank, beyond the control of democracy or government, able to influence events secretly from behind the scenes. One thing is for sure is that in times of financial crisis, these central banking networks become supremely powerful, as those like Gordon Brown allow their countries to become effectively indebted to the point of loss of control. The people wielding this power see the world's financial crisis as their moment of opportunity to seize greater power. The scary part of that is that hardly a living soul even knows they exist. Now that's real power.
WHAT WE DO KNOW  ABOUT WHO OWNS WHAT
9/14 Scotland's Financial Services
The Royal Bank of Scotland, Bank of Scotland, part of Lloyds Banking Group, and Clydesdale Bank are all permitted to print banknotes, a practice that dates back as far as 1695 - SFE.
Robert Fleming launched the use of investment trusts in the 1870s as a vehicle for world-wide collective investment. The primary investors were the owners of the Dundee based jute industry who wanted to invest their profits - SFE.
In 1875 the Chartered Institute of Bankers in Scotland was founded, making it the world's oldest professional body for practicing bankers - SFE.
The insurance industry presence in Scotland dates back to the early 1700s when marine insurance was written for the country's export and import companies - SFE.
Seventy percent of all pension products bought by Scottish consumers are from firms based in the rest of the UK - UK government.
1825, Standard Life, with a market capitalization of around 10 billion pounds, is the largest insurer based in Scotland.
Scotland will need it's own silver stash in reserve if it wants to be independant. They won't be allowed to use the Bank of England as a lender of last resort. The size of the reserves is one of the most important factors that determines the credibility. It will need $210 billion - to guarantee bank deposits and be a credible lender of last resort.
At least 500 funds, excluding investment trusts and exchange-traded funds, are run by money managers based in Scotland
Scotland's two biggest banks RBS, and Lloyds have said they would relocate to England if Scots vote for independence and decides to end its 307-year union with the rest of the UK. RBS is 81 percent-owned by the British government and has been based in Scotland since 1727, believes that it would be necessary to re-domicile the bank's holding company and its primary rated operating entity (The Royal Bank of Scotland plc) to England. Edinburgh based Lloyds, is 25 percent-owned by the British government. RBS and Lloyds were bailed out by the British government at a combined cost of 66 billion pounds ($107 billion) during the 2008 financial crisis. Standard & Poor's has warned an independent Scotland would be unable to credibly support its banks if a new financial crisis struck.
Lloyds, in which the UK government has a 25% stake, owns Bank of Scotland and Halifax.
The Royal Family and Scotland still pays taxes to the "Queen of Scots" who also has Scottish titles - Prince Charles carries the title Duke of Rothesay, while the Duke and Duchess of Cambridge are referred to as the Earl and Countess of Strathearn.  Scotland's First Minister Alex Salmond is keen to stress these associations, pointing out that the union of the crowns predates the union of the parliaments which he wishes to end.  His government has always maintained that the Queen would still be "Queen of Scots" if the country votes "Yes" on 18 September.
2015 Whistleblower claims orders given to remove and delete from audit report. 
PAC calls Central Bank to respond to allegations. The Public Accounts Committee is to ask the Central Bank to respond to allegations that it ordered the removal of critical findings from a draft internal audit report. A whistleblower who worked with the Bank has claimed he was told to "remove, omit and delete" from a report late last year and was dismissed for making the claims. The Central Bank published the report last night and PAC has asked for representatives to appear informally before the committee. The Central Bank is not accountable to the PAC and the Comptroller and Auditor General is examining the allegations by the whistleblower.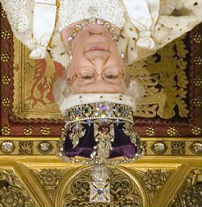 Church of England launches credit union.
2014 The Church Of England will launch a credit union for its own employees. 
Finally the church of england is now also a  bank.
4/20/14 Church of England still invested in payday lender
The Archbishop of Canterbury said the Church of England still held an indirect investment in short-term loan company Wonga, even though he branded its activities "morally wrong" nine months ago. Welby said he had been unable to force the church's investment arm, the Church Commissioners, to exit the investment.  "I can't just say, 'Sell it'. I do not have the authority to do that," he told the newspaper, saying he had already urged it to get rid of the investment "several times". "When I last asked, which was about a month ago, they hadn't. It's a very small holding of about 85,000 or 90,000 pounds ($151,300), which is indirectly held through about three other holdings, and apparently it is very difficult to get rid of."
Roberto Saviano
London The Corporation Origins of Opium Drug Smuggling
Banks and Money Laundering OF COURSE BANKS LAUNDER MONEY!
Roberto Saviano made a rare appearance in the UK when he came to the Intelligence Squared stage. In conversation with BBC foreign correspondent Fergal Keane, Saviano talked about his life in hiding and his beginnings as a reporter on the streets of Naples. He revealed his latest work of investigative reporting, 'Zero Zero Zero', in which he delves into the sprawling network of the global cocaine trade. He traced how the $400 billion a year generated by drugs trafficking filters into the international banking system through money laundering from Wall Street to the City of London. The cocaine trade isn't just a playground for criminals, Saviano argued. It is part of the structure of our global economy where some of the biggest players — the banks — have profited without facing a single criminal conviction.