IT IS NOT A CONSPIRACY THEORY WHEN YOU CAN SHOW PROOF OF STRATEDGY!
FOR YOUR PROTECTION
First Rule 
1) CHAT IN PRIVATE |  2) USE TAILS |  3) LESSONS LEARNED
Use GovTrack to find out who represents you in Congress and what bills they have sponsored.
WHAT THE HELL ARE THEY DOING?
Research Your Representatives Voting History

4USXUS tool is a nonpartisan website that gives you an awesome overview of how your government works and how much you really line up with your elected officials. We've talked about it before, but today we want to dive into the details of how it works.  

First, Find Out Who Your Representatives Are THEN Follow bills and vote to build your approval rating - A new way of holding Congress accountable.

You have brains in your head. You have feet in your shoes.
You can steer yourself, any direction you choose. – Dr. Seuss

USE YOUR VOICE! TELL CONGRESS 

1. If you already have a relationship with your congressional delegation, call them.

2. If you don't already have a relationship with them, fax a letter to their DC office and mail a copy to their district office. Don't email (it won't get noticed) or call (you'll only talk to a staffer). Don't use a form letter.  Don't use group letters (multiple signatures).

Apps Make Pestering Congress So Easy That It Can't Keep Up

Let your state's advocacy group know your efforts so they know when they visit the congressmen.

- You have TWO PEOPLE in the Senate representing your state, 
   Call Your Senators at 202-224-3121  
   "Hi, my name is [       ] and I'm a constituent. I'm calling to urge the senator to . . . 

 -ONE PERSON in the House of Representatives from your district. 
  Call Your Representative at 202-225-3121  
   "Hi, my name is [       ] and I'm a constituent. I'm calling to urge the representative to . . .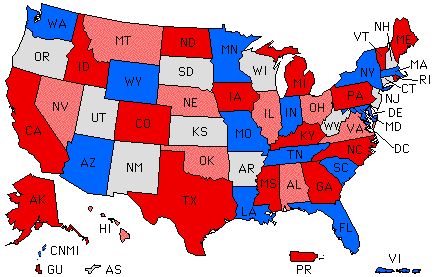 Keep in mind that every fax or voice call is interpreted by your congressperson as equal to the opinion of many more constituents who don't call. You can make a difference! In the following listing, members are listed in state postal code order. That is the way my program outputs the data (NOTE: currently only 1 out of 540 members of Congress have traditional e-mail addresses, although almost all keep a page online for electronic correspondence from constitutents). When contacting members of Congress, keep in mind to be formal and to the point or your letter may be ignored. Also, keep in mind this advice from Lawrence Rudner, Director of the ERIC Clearinghouse on Assessment and Evaluation:  
"Your letter should go to your Senator or Representative and should be no longer than one page, two brief paragraphs are best. Identify yourself, your  affiliation, and your major concern in the first paragraph. You should describe why the concern is important and worthwhile in the second paragraph. End with your postal address. Keep it concise!"
TAXES
Currently there is only 35% top rate for those making more than $1 million. Increase this to 50% on those making more than $10 million and also  tax their  dividends and capital gains as ordinary income (currently, they are taxed at a maximum rate of 15 percent).
BOTTOM LINE: The Culture of Stealing: 
The 1% - Once a Pirate always a Pirate Culture
THANKS TO INVESTIGATIVE JOURNALISTS 
who spent all this time finding the money the pirates.
REMEMBER Journalism is Not Terrorism
Lobbying Disclosure Act of 1995 (Section 5) - All Filers Are Required to Complete This Page
Query the Lobbying Disclosure Act Database
Lobbying Disclosure Electronic Filing System
The Lobbying Disclosure Contributions website allows employed lobbyists, as well as registered lobbying firms, organizations, and self-employed lobbyists, to file LD-203 Contribution Reports.

Clerk of the House of Representatives lobbying

Disclosure
Legislative Resource Center
B-106 Cannon Building
Washington, DC 20515

Secretary of the Senate lobbying disclosure
Office of Public Records
232 Hart Building
Washington, DC 20510
Flack Check 
Headquartered at the Annenberg Public Policy Center of the University of Pennsylvania, FlackCheck.org is the political literacy companion site to the award-winning FactCheck.org. The site provides resources designed to help viewers recognize flaws in arguments in general and political ads in particular. Video resources point out deception and incivility in political rhetoric.
DARK MONEY Radio and cable stations must upload political ad data to public online database
On June 24, the Federal Communications Commission began requiring the nation's radio broadcasters and cable television stations to upload all of their political add to a public online database. TV broadcasters have been doing so since the last presidential election. The FCC's decision to expand its online public file is important in the context of campaign 2016 because it vastly expands the field of vision for reporters and citizen monitors who are trying to track the efforts of dark-money groups to influence the elections.

FEDERAL WHITE COLLAR CRIME PROSECUTIONS 20 YEAR LOW
Federal prosecution of individuals identified by the government as white collar criminals is at its lowest level in the last twenty years, according to the latest data from the Justice Department.  The available records show an overall decline that began during the Clinton Administration, with a steady downward trend — except for a three-year jump early in the Obama years — continuing into the current fiscal year. Twenty years ago, mail fraud under 18 USC 1341 was the most frequent lead charge. Ten years ago it was bank fraud under 18 USC 1344. Five years it was aggravated identity theft under 18 USC 1028A.  Currently, fraud by wire, radio or television under 18 USC 1343 tops the list of lead charges. This also topped last year's list. In second place are frauds involving public money, property or records under 18 USC 641. Bank fraud, which as mentioned above was in first place ten years ago, has fallen to third place.

London is the home of the 1%
Per head, there are more so-called ultra-high net-worth individuals (UHNWI) in London than anywhere else on the planet. These are defined as people with $30m (£21m) or more in assets apart from their main home. The estate agents Knight Frank recently reported that 4,224 "Ultra" families were living in London, with the number expected to reach 5,000 by 2024. Britain's lax tax regime. As Pippa Malmgren, one-time economic adviser to George Bush, put it: "The crackdown on tax havens in Switzerland has removed these old options for new capital. As a result, there has been a huge influx of global capital into the UK."
"Descent into Slavery" by Des Griffin in which the real meaning of the term "City of London" is explained. The following is an excerpt from that article.
"To the majority of people the words "Crown" and "City" in reference to London refer to the queen or the capital of England."  This is not the truth. The "City" is in fact a privately owned Corporation – or Sovereign State – occupying an irregular rectangle of 677 acres and located right in the heart of the 610 square mile 'Greater London' area. The population of 'The City' is listed at just over four thousand, whereas the population of 'Greater London' (32 boroughs) is approximately seven and a half million.  

"The Crown" is a committee of twelve to fourteen men who rule the independent sovereign state known as London or 'The City.' 'The City' is not part of England. It is not subject to the Sovereign. It is not under the rule of the British parliament. Like the Vatican in Rome, it is a separate, independent state.  "The City", which is often called "the wealthiest square mile on earth," is ruled over by a Lord Mayor. Here are grouped together Britain's great financial and commercial institutions: Wealthy banks, dominated by the privately-owned Bank of England, Lloyd's of London, the London Stock Exchange, and the offices of most of the leading international trading concerns. Here, also, is located Fleet Street, the heart and core of the newspaper and publishing worlds.

When the Queen of England goes to visit the City she is met by the Lord Mayor at Temple Bar, the symbolic gate of the City. She bows and asks for permission to enter his private, sovereign State. During such State visits  "the Lord Mayor in his robes and chain, and his entourage in medieval costume, outshines the royal party, which can dress up no further than service uniforms. The Lord Mayor leads the queen into his city. The symbolism is clear. The Lord Mayor is the monarch. The Queen is his subject.
POWER TO THE 99% THE SOLIDARITY ECONOMY
PLATFORM COOPERATIVES
Ours to Hack and to Own: The Rise of Platform Cooperativism, A New Vision for the Future of Work and a Fairer Internet WATCH Free Software Platforms / Digital Culture 
"Platform Cooperativism: The Internet, Ownership, Democracy"
*SOLIDARITY ECONOMY* - which is all about cooperatives
http://cborowiak.haverford.edu/solidarityeconomy/resources-for-researchers/cooperatives/
TWEET  CONGRESS 
@rollcall <> @tweetcongress <> Tweet Your Representative <> @ICIJ.org  <> @StrikeDebt
TWEET using hash tags  #Advocacy #Transparency  #Bankster #WorldBank 
eCONomists how they break out the top 100 most influential economists twitter. 
With 97% of Congress officially on Twitter find out who members of congress are most likely to follow. USAToday has a list of all the Members of Congress who Tweet.
@StrikeDebt

#Debt #GREED 

Learn how to Defeat Rat Bastard Predatory Lenders.

 

The .01% has enough wealth to pay off the worlds' debt four times over - that is how ridiculous the situation actually is.
WALTON FAMILY THE RICHEST AMERICAN FAMILY 2011 – WORTH $93 BILLION

If the public was smart they'd destroy the central banks of their governments and have a State Bank like Nebraska. Know your Banking Options: 
WHY EVERY STATE NEEDS IT'S OWN PUBLIC BANK

Global Debt Is MORE THAN TWICE AS BIG As the Entire World Economy … What Does It Mean?

KNOW WHAT THEY KNOW: We're publishing reports by Congress's think tank, the Congressional Research Service, which provides valuable insight and non-partisan analysis of issues of public debate. These reports are already available to the well-connected — we're making them available to everyone for free.