The Background to Skull and Bones is a Story of Opium and Empire.
FAMOUS ​U.S. MARINE CALLS OUT SKULL & BONES INDUCED CORRUPTION OF CIA
Skull and Bones is a power elite network unlike any other in history. Since its founding in the early 19th century by a group of illegal drug traffickers, the organization has shaped academy, media, politics, foreign policy, and intelligence. These men are intent on keeping their power and their drug money in their 1% families.
William H. Russell (Skull & Bones; co-founder-1833) cousin Samuel Russell formally established Russell & Co. on January 1, 1824 for the purpose of acquiring opium and smuggling it to China.
Russell & Company was started in 1818 by Samuel Russell, cousin of the founder of the "secret society" called Skull & Bones at Yale University, William Huntington Russell. Samuel had gotten his start through merchant companies like Whittlesley & Alsop of Boston, MA.  The Alsops were also major investors in the businesses run by James Monroe Walker, and Russell & Company partner John N. Alsop Griswold was a director of the C,B&Q as well as president of the Illinois Central railroad.  Many years later, in the 1960s, Washington Post columnist Joe Alsop, a descendant of the Whittlesley & Alsop owners, convinced President Johnson to create the Warren Commission, for the assassination of President Kennedy.
1830 Russell & Company buys out the Perkins opium syndicate, which had created the wealth of the Cabot, Lowell, Higginson, Forbes, Cushing and Sturgis family. Russell makes Connecticut the primary center of the US opium racket. Massachusetts families (Coolidge, Sturgis, Forbes and Delano) joined Connecticut (Alsop) and New York (Low) trafficking families under the auspices of the Russell Company and the British. Britain imports 18,956 chests of opium to China. Opium becomes the largest commodity in world trade.
Forced out of the lucrative African slave trade by U.S. law and Caribbean slave revolts, leaders of the Cabot, Lowell, Higginson, Forbes, Cushing and Sturgis families had married Perkins siblings and children. The Perkins opium syndicate made the fortune and established the power of these families. By the 1830s, the Russells had bought out the Perkins syndicate and made Connecticut the primary center of the U.S. opium racket.
The Untitled Aristocrats of New England 
Harvey Bundy, Sr. (Yale, Skull and Bones 1909) was bestowed upon him by his wife's "Uncle Wendell," the son of the man who coined the term "Brahmin Caste of New England."  Harvey Bundy III—son of William and McGeorge's older brother, Harvey Jr. (Yale 1938]—with whom Kerry shared his suite at Yale, worked as an investment banker in Chicago for William Blair & Co., where he was one of Kerry's biggest fundraisers, and he had access to an enormous pool of capital under the management of that investment bank. The Bundys, McCormicks and the Blairs New Capitalist Competitors in Chicago William Blair & Co. was founded in 1935 by William McCormick Blair  (Yale, Skull and Bones  1907),  formerly a banker in the Chicago office of Lee, Higginson & Co. (1922-32).   
Forbes clan research showed Boston-based Lee, Higginson investment bank was heavily involved in reinvesting the profits made in the China trade (opium in particular) of the Massachusetts shipping families such as Forbes, Cabot, Cushing and Perkins, who joined with New York families like Russell, Delano and Sturgis to merge into Russell & Co.  It was a Russell & Co. heir, William Huntington Russell, who in 1832 created the Skull and Bones secret society at Yale, along with friend Alphonso Taft. The founder of William Blair & Co. was the son of Anna Reubenia (Ruby) McCormick Blair, therefore making him a first cousin to Robert Rutherford McCormick and Joseph Medill Patterson, all of them heirs to the Cyrus Hall McCormick farm machinery fortune as well as to the Chicago Tribune publishing empire.
Samuel had gotten his start through merchant companies like Whittlesley & Alsop of Boston, MA.  The Alsops were also major investors in the businesses run by James Monroe Walker, and Russell & Company partner John N. Alsop Griswold was a director of the C,B&Q as well as president of the Illinois Central railroad.  Many years later, in the 1960s, Washington Post columnist Joe Alsop, a descendant of the Whittlesley & Alsop owners, convinced President Johnson to create the Warren Commission, for the assassination of President Kennedy.
In 1828, Russell & Company merged with another drug smuggling syndicate run by John Perkins Cushing. Cushing brought in his cousins, Robert Bennet Forbes and John Murray Forbes.  Robert Bennet Forbes was Senator John F. Kerry's great-grandfather.  John Murray Forbes attended school at Phillips Academy in Andover, the alma mater of George H.W. Bush, and his sons Jeb and George W.
IVY LEAGUE SCHOOLS founded by illegal drug money
John Cleve Green, (1800-1875) Princeton College's greatest benefactor during the presidency of James McCosh. By the time McCosh retired in 1888, Green and his residuary legatees had contributed "to the good of the College,"' President McCosh said in his farewell report, "upwards of a million and a half, perhaps two million dollars.'"
Green was born in Lawrenceville, New Jersey, and was a member of the first class to enter what became the Lawrenceville School. He did not go to college, but entered the employ of New York merchants with extensive foreign trade. He spent ten years as supercargo of ships visiting South America and China, and by the time he was forty had acquired an ample fortune in the China trade, derived from the tea and textile business and, after the end of the East India Company's monopoly, from the opium trade. The benefactions from his estate continued into the 1890s and included the erection of the College's first chemical laboratory building at the corner of Nassau Street and Washington Road in 1891. A portrait of Green hangs in the Convocation Room of the Engineering Quadrangle.
John Kerry Admits Skull and Bones Membership
kennedy warned us of the dangers of secret societies
John F. Kennedy THE PRESIDENT WHO TOLD THE TRUTH!

Title: JFK REVEALS SKULL AND BONES SOCIETY
Zeitgeist - NWO Length: 1 minutes
FULL TRANSCRIPT OF THE SPEECH HERE:
http://www.jfklibrary.org/
Bush Admits Skull and Bones
Antony Sutton - The Jesuit Order of Skull and Bones [Brotherhood of Death]
https://www.youtube.com/watch?v=XImnRAmm93Q
60 Minutes - Yale University's Skull and Bones Secret Society Part 1 of 2 
Skull and Bones CBS 60 Minutes George Bush and John Kerry
https://www.youtube.com/watch?v=SXDK8mdYIN4
60 Minutes - Yale University's Skull and Bones Secret Society Part 2
Located in New Haven, Connecticut, the Order's fortunes were based on the wealth of the cousin of one of its founding members, William H. Russell. Samuel Russell had been the primary American player in the "China trade", or opium smuggling. Many of the other great American and European fortunes were built on this trade as well, for opium was the most lucrative commodity on the planet in the 1830's.
Dr. Benjamin Sillman Jr., a Bonesman, was the first to make the petrochemicals gasoline and paraffin. He conferred with his colleagues, then made a proposal to the Pennsylvania Rock Oil Company, the very first oil company. He told them, "Gentlemen, it appears to me that your Company may have in their possession a raw material from which, by a simple and not expensive process, they may manufacture very valuable products." Pennsylvania Rock Oil soon passed into the hands of New Haven investors, and the Company's original owners and financiers, the Bissells and the Townsends, soon had their sons enrolled in Yale and Skull and Bones.
In 1886, Supreme Justice Morrison R. Waite, a Bonesman, made an interesting decision regarding the 14th Amendment, which had been designed to protect freed black slaves. Waite ruled that the amendment applied to business corporations- that a corporation could now claim the legal rights and privileges of a person.
Skull and Bones members would go on to be the first Presidents of the University of California, John Hopkins, and Cornell University. They helped to found and set the direction for the Carnegie Institution, the Peabody, Slater, and Russell Sage Foundations, as well as the American Economic Association, the American Historical Association, and the American Psychological Association. Bonesmen Gilman, White, and Rockefeller have also had considerable influence on the development of public education.

 
For those who would downplay the role of Skull and Bones in the development of the United States, consider that members of this Order designed the institutions which have been responsible for teaching Americans their history, defining sanity and normalcy, and telling Americans what and how to think.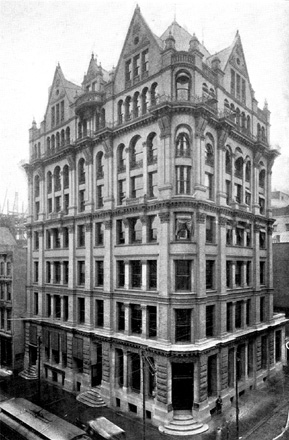 During Hitler's rise to power, Nazi Germany received major financial help from members of Skull and Bones, including Prescott Bush. Through Brown Brothers Harriman &Co., the Union Banking Corporation, and Hamburg America Shipping Lines, Bush and other Bonesmen helped German industrialist Fritz Thyssen build the Nazi War Machine. Of all the war materials which the German military used, the percentage which came from Thyssen is astounding: 50.8% of pig iron, 41.4% of universal plate, 36% of heavy plate, 38.5% of galvanized steel, 45.5% of pipes and tubes, 22.1% of wire, 35% of explosives.
 Brown Brothers Harriman &Co
1531 Walnut St, Philadelphia, PA 19102 http://bbh.com (215) 864-1818
BBH is the oldest and largest private bank in the United States. In 1931, the merger of Brown Brothers & Co. (founded in 1818) and Harriman Brothers & Co. formed the current BBH. Brown Brothers Harriman is also notable for the number of influential American politicians, government appointees, and Cabinet members who have worked at the company, such as W. Averell Harriman, Prescott Bush, George H. W. Bush, Robert A. Lovett, Richard W. Fisher, Robert Roosa, and Alan Greenspan. The firm has 38 partners, and acts as custodian and administrator for $3.3 trillion and $1.2 trillion in assets, respectively.
In 1818, one son, John Alexander Brown traveled to Philadelphia to establish John A. Brown and Co. In 1825, another son, James Brown, established Brown Brothers & Co. on Pine Street in New York and relocated to Wall Street in 1833, which eventually acquired all other Brown branches in the U.S. Another son, William Brown, had established William Brown & Co. in England in 1810, which was renamed to Brown, Shipley & Co. in 1839, and became a separate entity in 1918.

On January 1, 1931, Brown Brothers & Co. merged with two other business entities, Harriman Brothers & Company, an investment company started with railway money, and W. A. Harriman & Co. to form Brown Brothers Harriman & Co. Founding partners included: Thatcher M. Brown, Sr Prescott Bush Granger Kent Costikyan Louis Curtis Moreau Delano E. Roland Harriman W. Averell Harriman Robert A. Lovett Ray Morris Knight Woolley TIME magazine's December 22, 1930 issue announced that the three-way merger featured 11 of 16 Yale graduates as founding partners. Eight of the partners listed above, except for Moreau Delano and Thatcher Brown, were Skull and Bones members. After the passage of the Glass-Steagall Act, the partners decided to focus on commercial banking, becoming a private bank, and spin its securities marketing and underwriting off into Harriman, Ripley and Company which eventually evolved into Drexel Burnham Lambert via mergers.
Smedely Butler 
Thomas Stalker Butler (1855 - 1928), the father of Smedley Darlington Butler
Thomas Stalker Butler was a lawyer and politician and in 1897 was elected to the House of Representatives from Pennsylvania; born in Uwchland Township, Chester County, Pa., November 4, 1855; attended the common schools, West Chester State Normal School, and Wyer's Academy, West Chester, Pa.; studied law; was admitted to the bar in 1877 and commenced practice in West Chester, Pa.; served as trustee of the West Chester State Normal School 1885-1889 and again in 1927 and 1928; appointed judge of the fifteenth judicial district of Pennsylvania in 1888; unsuccessful candidate for reelection in 1889; delegate to the Republican National Convention in 1892; elected as an Independent Republican to the Fifty-fifth Congress and as a Republican to the fifteen succeeding Congresses and served from March 4, 1897, until his death in Washington, D.C., May 26, 1928; chairman, Committee on Pacific Railroads (Fifty-ninth through Sixty-first Congresses), Committee on Naval Affiars (Sixty-sixth through Seventieth Congresses); interment in Oaklands Cemetery, West Chester, Pa.
Smedley Darlington Butler son of Thomas Stalker Butler was born in Pennsylvania on 30th July, 1881.
Butler is well known for having later become an outspoken critic of U.S. wars and their consequences, as well as exposing the Business Plot, a purported plan to overthrow the U.S. government.
​What he learned in his lifetime as a decorated war hero:
famous ​u.s. marine calls out skull & bones induced corruption of ciaRetired Marine Corps Major General Smedley Butler claimed that wealthy businessmen were plotting to create a fascist veterans organization that served corporate interests for many years by subduing indigenous populations in the Philippines and Caribbean. But Butler was "tired of being a gangster for capitalism," and cooperated just long enough to identify and expose those behind the plot including the DuPont Family, the Remington Family, and J.P. Morgan, who was backed by the old European banking families, who had Bonesmen partners, and who financed many Skull and Bones families including the Rockefellers and Harrimans. All of this came out in the investigation by the McCormack-Dickstein Committee hearings, the transcripts of which are still publicly available. Although the committee supported Butler's allegations about the plot, no prosecutions or further investigations followed. At the time of his death, Butler was the most decorated U.S. Marine in history, with two Medals of Honor.
Butler went to Senator John McCormack and told him that there was a fascist plot to overthrow President Franklin Roosevelt. Butler claimed that on 1st July 1934, Gerald C. MacGuire a Wall Street bond salesman and Bill Doyle, the department commander of the American Legion in Massachusetts, tried to recruit him to lead a coup against Roosevelt. Butler claimed that the conspirators promised him $30 million in financial backing and the support of most of the media.
Butler pretended to go along with the plot and met other members of the conspiracy. In November 1934 Butler began testifying in secret to the Special Committee on Un-American Activities Authorized to Investigate Nazi Propaganda and Certain Other Propaganda Activities (the McCormack-Dickstein Committee). Butler claimed that the American Liberty League was the main organization behind the plot. He added the main backers were the Du Pont family, as well as leaders of U.S. Steel, General Motors, Standard Oil, Chase National Bank, and Goodyear Tire and Rubber Company.
Butler also named Prescott Bush as one of the conspirators. At the time Bush was along with W. Averell Harriman, E. Roland Harriman and George Herbert Walker, managing partners in Brown Brothers Harriman. Bush was also director of the Harriman Fifteen Corporation. This in turn controlled the Consolidated Silesian Steel Corporation, that owned one-third of a complex of steel-making, coal-mining and zinc-mining activities in Germany and Poland. https://archive.is/sGmP7
Friedrich Flick owned the other two-thirds of the operation. Flick was a leading financial supporter of the Nazi Party and in the 1930s donated over seven million marks to the party. A close friend of Heinrich Himmler, Flick also gave the Schutz Staffeinel (SS) 10,000 marks a year.
2011 NYT chairman is Arthur Ochs Sulzberger Jr., whose family has controlled the paper since 1896 tried to denounce the story.
The International:  Oil, Drugs, Guns & Kissinger Associates
  by Dean Henderson August 31, 2011  
(Part one of a two-part series excerpted from Chapter 18 of my book Big Oil & Their Bankers in the Persian Gulf)
At the nadir of Four Horsemen/Gulf Cooperation Council/CIA petrodollar drugs for guns recycling scheme quietly sit the international banksters. Through every major scandal and behind every despotic regime stands a global financial oligarchy- ultimate beneficiary of the world's addiction to oil, guns and drugs. The oil wealth generated in the Persian Gulf region is the main source of capital for these bankers. They sell the GCC sheiks 30-year treasury bonds at 5% interest, then loan the sheiks' oil money out to Third World governments and Western consumers alike at 15-20% interest. In the process these financial overlords- who produce nothing of economic import- use debt as their lever in consolidating control over the global economy.  
Oil and Drug Money Overlords
The international bankers oversee Persian Gulf oil wealth generated by their Big Oil tentacles. Chase Manhattan called the shots at Iran's central Bank Markazi, then looted the Iranian Treasury as insiders Rockefeller, Kissinger and McCloy whisked their Shah puppet into exile. Chase had close ties to the Saudi SAMA central bank and Venezuela's central bank, where Rockefeller-controlled Exxon Mobil "is the CIA". Chase launched the Saudi Industrial Development Fund which doled out contracts to Chase-owned multinationals during the Saudi modernization drive, then bought Saudi Investment Banking Corporation, which did exactly the same. [1] World Bank Presidents Eugene Black and John McCloy both came from Chase.  
Morgan Guaranty Trust presided over the House of Saud oil kitty. SAMA, created as the Kingdom's Central Bank as the ink was still drying on the US/Saudi Security Agreement, was run by IMF goon Anwar Ali, who was handled by the "Three Wise Men" or "White Fathers", the most powerful of which was John Meyer, chairman of Morgan Guaranty Trust's International Division and later chairman of Morgan Guaranty. Meyer funneled SAMA petrodollar royalties into Morgan, which was investment counselor to SAMA. [2] Morgan was banker to Bechtel and ARAMCO. Stephen Bechtel sat on Morgan Guaranty's board, as did Chevron Texaco CFR insider George Schultz and Sulaiman Olayan, the Bechtel straw man crucial to recycling Persian Gulf petrodollars into international banks. <snip>
Proofs of A Conspiracy
Proofs Of A Conspiracy PDF
John Robison, a professor of natural philosophy at Edinburgh University in Scotland and a member of a Freemason Lodge, said that he was asked to join the Illuminati. After study, he concluded the purposes of the Illuminati were not for him.
In 1798, he published a book called "Proofs Of A Conspiracy" PDF:
"An association has been formed for the express purpose of rooting out all the religious establishments and overturning all the existing governments.... the leaders would rule the World with uncontrollable power, while all the rest would be employed as tools of the ambition of their unknown superiors."
"Proofs of A Conspiracy" was sent to George Washington. Responding to the sender of the book with a letter, the president said he was aware the Illuminati were in America. He felt that the Illuminati had "diabolical tenets" and that their object was "a separation of the People from their government."
In "Proofs Of A Conspiracy", Robison printed the ceremony of initiation of the "Regent degree" in Illuminism. In it "a skeleton is pointed out to him [the initiate], at the feet of which are laid a crown and a sword. He is asked 'whether that is the skeleton of a king, nobleman or a beggar.' As he cannot decide, the president of the meeting says to him, 'The character of being a man is the only one that is importance'". This is, essentially, the same as the writing in the Skull & Bones "tomb": "Wer war der Thor, wer Weiser, Bettler oder Kaiser? Ob Arm, ob Reich, im Tode gleich." Which reads: "Who was the fool, who the wise man, beggar or king? Whether poor or rich, all's the same in death."
EVIL ELITE  
JESUS, THE PENTACOSTALGON MILITARY, AND MONEY  
Raging out-of-control conflagration of fundamentalist Christian tyranny, exceptionalism and supremacy at the Air Force
Army Spc. Jeremy Hall

 was raised Baptist but is now an atheist. His sudden lack of faith cost him his military career and put his life at risk, he says. Hall sued the Defense Department; claims military is a Christian organization. This man served two tours of duty in Iraq and has a near perfect record. But somewhere between the tours, something changed. Hall, now 23, said he no longer believes in God, fate, luck or anything supernatural. 

In March, 2014 Hall filed a federal lawsuit against the U.S. Department of Defense and Secretary of Defense Robert Gates, among others. In the suit, Hall claims his rights to religious freedom under the First Amendment were violated and suggests that the United States military has become a Christian organization. 
9/18/14 US air force reverses policy and drops 'so help me God' requirement for reenlistment Unnamed airman, stationed at Creech Air Force Base in Nevada, was allowed to sign a secular affirmation to the service. The US air force has allowed an atheist airman to re-enlist after initially refusing to process the his paperwork, because he refused to sign an oath that contained the phrase "so help me God".  The service announced the policy reversal after the American Humanist Association threatened to file suit by 19 September . The change barred airmen from re-enlisting if there were omissions in paperwork, according to the air force press office. Other American armed services, the army, navy and marines, all allow service members to swear secular oaths if they object to the references to God.  Air force secretary Deborah Lee James said the air force has since been instructed to allow airmen to swear a secular oath.
Michael Weinstein, a retired senior Air Force officer and founder of the Military Religious Freedom Foundation, is suing along with Hall. Weinstein said he's been contacted by more than 8,000 members of the military, almost all of them complaining of pressure to embrace evangelical Christianity. "Our Pentagon, our Pentacostalgon, is refusing to realize that when you put the uniform on, there's only one religious faith: patriotism," Weinstein said. Religious discrimination is a violation of the First Amendment and is also against military policy. "I think it's utterly and totally wrong. Unconstitutional," Hall said. Hall said there is a pattern of discrimination against non-Christians in the military. "Their purpose is to have Christian officers exercise Biblical leadership to raise up a godly army," he says.
America's Secret Establishment: The Secret Parts of Fortune: Skull and Bones
Grandfather Prescott Bush, George Bush Senior, George Bush Junior, John Kerry - presidents, cabinet officers, spies, Supreme Court justices, captains of industry, and often their sons and lately their daughters, a social and political network like no other.
A Revisionist expose of the world's greatest Opium Traders / Smugglers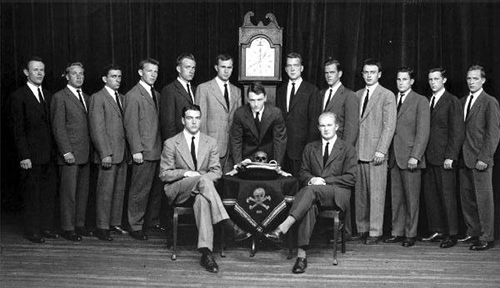 Skull and Bones, a secret society founded in 1832 at Yale University in New Haven, Connecticut.
Founding members (1832-1833 academic year) Opium Drug Smuggling Pirate William Huntington Russell (1833), Connecticut State Legislator, Major General descendent The Russell Building was occupied in 1909 by the Senate of the 61st Congress.
Until 1971, the organization published annual membership rosters, which were kept at Yale's library. In this list of notable Bonesmen, the number in parentheses represents the cohort year of Skull and Bones, as well as their graduation year. There are no official rosters published after 1982 and membership for later years is speculative. Some news organizations refer to them as a power elite. Skull and Bones entry from the 1948 Yale Banner. Former United States President George Herbert Walker Bush is listed fourth down.
Skull and Bones -- the Russell Trust Association -- was first established among the class graduating from Yale in 1833. Its founder was William Huntington Russell of Middletown, Connecticut. The Russell family was the master of incalculable wealth derived from the largest U.S. criminal organization of the nineteenth century: Russell and Company, the great opium syndicate.
The Russell Building was occupied in 1909 by the Senate of the 61st Congress.
skull & bones prominent figures
THE ORDER OF SKULL & BONES
It is the oldest and most prestigious of Yale's seven secret societies. Among the others are: Scroll & Key, Book & Snake, Wolf's Head, Eliahu, and Berzelius. These fraternities serve as a recruiting ground for young men destined for careers in government, law, finance and other influential sectors of American life. Skull & Bones is the elite of the elite among these secret societies. Only Scroll & Key can claim a near equal influence on American affairs over the past 160 years.
Unlike the Greek fraternities on most other American university campuses, Skull & Bones and its similar secret societies exist exclusively at Yale. They are not part of any nationwide public association. The other elite Ivy League colleges, Harvard and Princeton have similar e~clusive secret societies. Yet, even among these few universities, the secret societies of Yale-led by Skull & Bones are unchallenged in their influence on American political affairs.
According to some accounts, the Skull & Bones secret society at Yale has an underground affiliation with two other societies which were simultaneously founded at two other locations. The number "322" that appears under the skull and crossbones on the Order's emblem is believed to indicate the year of its founding-1832-and the fact that it is the second lodge within an international system. By some accounts, the lodge holding the number "1" is in Germany and the lodge numbered "3" is based at another American college.
Since its founding, Skull & Bones has only inducted about 2,500 members. At any given time, only about 600 or so members of the Order are alive. This small number underscores the tremendous concentration of power in the hands of its members.
If the members of Skull & Bones were to select a Hall of Fame from among their own elite ranks, some of the people whose names would almost certainly appear at the top of the list would be:
* Alphonso Taft, a founding member of the Order who served as the Secretary of War under President Rutherford B. Hayes (1876-1880).
* William Howard Taft, the only man to ever serve as both the President of and Chief Justice of the United States Supreme Court.
* Henry Lewis Stimson, partner in the Wall Street law firm of Root and Stimson, Secretary of War under President Taft (1908-1912), Governor General of the Philippines (1926-1928), Secretary of State under President Herbert Hoover (1929-1933) and Secretary of War under Presidents Franklin Delano Roosevelt and Harry S. Truman (1940-1946).
* Averell Harriman, investment banker with Brown Brothers Harriman, director of the Lend-Lease program of the U.S. State Department (1941-1942), U.S. Ambassador to the Soviet Union (1943-1946), Governor of New York, Under Secretary of State for Asia (1961-1963), and presidential secret envoy to Soviet leaders Stalin, Krushchev, Brezhnev and Andropov.
* Robert Lovett, partner in Brown Brothers Harriman, Assistant Secretary of War for Air (1941-1945), Deputy Secretary of Defense, Secretary of Defense (1950), leading member of the New York Council on Foreign Relations.
* Harold Stanley, investment banker, founder of Morgan Stanley.
* Robert A. Taft, United States Senator (1938-1950).
* Prescott Bush, investment banker and partner in Brown Brothers Harriman, United States Senator from Connecticut, father of George Herbert Walker Bush.
* George Herbert Walker Bush, United States Congressman (1964-1970), Chairman of the Republican National Committee, United States Ambassador to the United Nations, first American Diplomatic Liaison to the Peoples Republic of China, Director of the Central Intelligence Ageney (1975-1977). Vice President of the United States (1980-1988), President of the United States (1988- ).
* John Thomas Daniels, agro-industnalist, founder of Archer Daniels Midland.
* Hugh Wilson, foreign service officer, Counsellor to Japan (1911-1921), U.S. Minister to Switzerland (1924-1927), Assistant Secretary of State (1937-1938). Ambassador to Germany 1938), Special Assistant to the Secretary of State (1939-1941), Office of Strategic Services (1941-1945)
The Order was first established on the Yale campus in 1832 It was officially incorporated only in 1856 under the name Russell Trust Association. According to virtually all the available biographical data on its early members, the money required to sustain the secret order's campus affairs and its broader role in placing its members into key positions of influence upon their graduation from Yale, derived from the opium trade in the Far East. That trade was set up by the British East India Company and was flourishing by the time the Treaty of Paris was signed in 1783 ending the American War for Independence. The East India Company during this period was controlled by the Baring Brothers Bank (Toward the closing decades of the l7th century, the British House of Rothschild would supplant the Baring Brothers as the controlling financial interests in the China opium trade.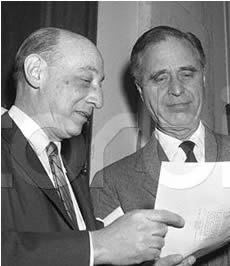 Rothschild and Bush
Through the sponsorship of the Barings and also the Rothschilds, a number of leading New England families, some of whom had sided with Great Britain during the American Revolution, were brought into the opium trade as junior partners. These merchant families ran fleets of clipper ships and became in many cases fabulously wealthy as the result of their asscoiation with the British East India Company. Among these key New England merchant families were; Cabot, Coolidge, Forbes, Higginson, Sturgis, Lodge, Lowell, Perkins and Russell.
These New England merchant families founded the United Fruit Company and the Bank of Boston. The founding families of Skull & Bones included the Russell and Perkins families, Over several generations, however, all these families heavily intemarried and became, in effect, one extended power grouping.
William Huntington Russell incorporated Skull & Bones as the Russell Trust Association. Throughout the 20th century, the Russell Trust Association listed the New York City headquarters of Brown Brothers Harriman as its address.

Russell was valedictorian of his class at Yale in 1833. He and his Skull & Bones comrades considered themselves to be a special elite among the merchant banking and Puritan pilgrim elite of Yale. They took the Puritan beliefs of the early New England settlers, that they were "elected by God," and pre-ordained to rule North America.
The founding of Yale College in 1701 pre-dates the Amencan Revolution by several generations.
Many of the founders of Yale were righteous men of the Puritan heritage who devoutly believed in God and country. Some of these patriotic souls later made up the core of Benjamin Franklin's political coalition which ultimately broke with the mother country, Great Britain. Many graduates of Yale were active in the American Revolution and the founding of the United States.
In 1943, by special act of the Connecticut state legislature, its trustees were granted an exemption from filing corporate reports with the Secretary of State, which is normally a requirement.
"From 1978 onward, business of the Russell Trust Association was handled by its single trustee, Brown Brothers Harriman & Co. partner John B. Madden. Madden started with Brown Brothers Harriman in 1946, under senior partner Prescott Bush. Father of both Presidents named BUSH.
Professor Sutton on the Skull and Bones secret society 1
Dr. Antony Sutton was a research scholar at Stanford University's Hoover Institution.

Through his scientific historical research he saw the bigger picture of how the secret US establishment (largely operating through the Skull & Bones secret society) uses the Hegelian dialectic (create thesis & antithesis to control synthesis) to create, manage and perpetuate conflict.
Hidden inplain sight, one cannot dispute the fact that members of this all boys club "just happen" to be presidents, supreme court justices and heads of the CIA. Dr. Antony Sutton was a research scholar at Stanford University's Hoover Institution.
Through his scientific historical research he saw the bigger picture of how the secret US establishment (largely operating through the Skull & Bones secret society) uses the Hegelian dialectic (create thesis & antithesis to control synthesis) to create, manage and perpetuate conflict.
Professor Sutton on the Skull and Bones secret society 2
Professor Sutton on the Skull and Bones secret society 3
Professor Antony Sutton: Wall Street & the rise of Hitler 1
Professor Antony Sutton: Wall Street & the rise of Hitler 2
Professor Antony Sutton: Wall Street & the rise of Hitler 4
Professor Antony Sutton: Wall Street & the rise of Hitler 5
The Order of Skull and Bones - The Beginning History of Skull and Bones
Skull and Bones "America's Secret Establishment," by Antony C. Sutton
Two critics of the Order, historian Antony Sutton http://www.antonysutton.com/ and investigative journalist Ron Rosenbaum (himself a Yale graduate), both concluded that Skull & Bones has degenerated since its founding and has taken on more of the occult and ritualistic trappings of the majority of European freemasonic and illuminati secret societies. Sutton charges that the Order is secretly known among its initiates as the "Brotherhood of Death" and has become an evil instrument in the hands of America's secret power elite. Rosenbaum claims that the society's Germanic origins are inherently wicked and pre-Nazi.
In a long 1977 article in Esquire magazine, Rosenbaum charged that the Skull & Bones building on the Yale campus houses remnants from Hitler's private collection of silver. While these stories cannot be dismissed out of hand, it must be noted that authors Rosenbaum and Sutton may be biased. As a young Jewish student at Yale, Rosenbaum was almost automatically excluded on religious grounds from the inner sanctum of the campus's secret societies. Sutton, a British-born eccentric historian, proudly admits his strong British biases, frequently citing philosopher John Stuart Mill as the spiritual mentor in his book on the Order.
Despite the possible personal biases in these two accounts of the history of the Order of Skull & Bones, it must be acknowledged that the membership of the society has tended over generations to converge upon a small group of New England families who have intermarried and then sponsored their sons and nephews into the Order. This kind of inbreeding always tends to produce narrow-mindedness and prejudice against outsiders, which can be a serious shortcoming, particularly among individuals responsible for charting the course of a nation as powerful as the United States.
The Order of Skull and Bones By Kris Millegan
2004's MEDIA PRESENCE OF SKULL AND BONES
INTRODUCTION
Kris Milligan is a writer, research, publisher whose father was from age 18 involved in U.S. intelligence operations, in Shanghai in the late 1930s (opium drug capital of the world) and was later sponsored by (unknown to him at the time a Skull and Bones member) Archibald MacLeish, which led him into in the WWII Office of Strateic Services ("OSS," foundation network of later CIA, 1947). Simultaneously, his father was in G2 military intelligence, then, later, in the CIA as a branch chief and head of intelligence analysis for East Asia. Kris's father while in the CIA worked with Lansdale's CIA drug trade faciliation operations. Additionally, Lansdale was the one who helped put togeher the PROJECT NORTHWOODS document, that was a state terrorist self-hit operation (fully authorized by the full complement of the U.S. Joint Chief's of Staff) to faciliate an invasion of Cuba after the failed George H. W. Bush invasion operation of the Bay of Pigs [see the book George Bush: the Unauthorized Biography. Landsdale and others wrote up their ideas for manipulating and manufacturing 'support' for another more direct military pre-emptive attack on Cuba through the pretext of the U.S. planning to kill its own citizens in various ways to start the war, and then blame it on Cuba. President Kennedy rejected the idea.
Earlier, his father was a spy for the executive branch in the CIA/OSS, spying on the US military's intelligence operations since he was intentionally placed in G2 by the OSS during Wallace and Gen. Marshall. This was presumably in WWII and just after and it was done without Marshall's knowledge that he was in OSS as well. This made him a very rare example of public knowledge of a person who is effectively a double agent, being in multiple intelligence operations while intentionally betraying one to the other. Do you think that this would potential source of blown cover and learning lots of juicy secrets that would weigh heavily on your soul?
Well, that is just what happened. Kris Milligan's father, privy to all these high level international secrets, told his son Kris some things in the late 1960s about the proverbial "them" and how Vietnam was all about [1] "secret societies", [2] "forcing open the heroin drug markets, and intentionally getting U.S. kids addicted to the stuff for a market", [3] about "intentionally choosing a losing option" against the North Vietnamese, and [4] how "Communism is a sham, all these secret societies are behind it."
Kris just didn't understand at the time and he started to research it. In the San Fran presentation listed below, Kris has some nice pictures of U.S. CIA's Gen. Lansdale meeting with the ***COMMUNIST NORTH VIETNAMESE*** MILITARY LEADERS as early as the late 1950s. Of course the U.S. official story, or should I say alibi for its public, is that the U.S. claims it was working with the non-Communist south Vietnamese.
All these questions led to some 30 years of research into the CIA, drugs, and clandestine operations. This in other words is a research path based on more direct "primary sources" unlike many who relied on Antony Sutton's 1980's books on the subject. Interestingly, Milligan only found Antony Sutton's book on Skull and Bones in 1988--two years before his father died in 1990 so father and son were unable to talk much about it. (For more information on that, Millegan goes into that in his appearance at the San Francisco 9-11 Citizens Inquiry this year as well. That link is below as are several others.)
Kris has produced two drugs/CIA symposiums in 2000 of top researchers, whistleblowers, authors, researchers, and academics in this field.
He is the author of what is being called the "encyclopedia and bedrock of Skull and Bones research", Fleshing out Skull and Bones, published in 2004.
http://ctrl.org/boodleboys/index.html
Millegan is one of the authors in a new (2003-Oct) book on Skull and Bones titled Fleshing Out Skull and Bones. Other authors are Antony Sutton, Howard Altman, Ralph Bunch, Anton Chaitkin, and Webster Griffin Tarpley. -AMPP Ed.

1. The Secret Origins of Skull & Bones
The story begins at Yale, where three threads of American social history -- espionage, drug smuggling and secret societies -- intertwine into one.
Elihu Yale was born near Boston, educated in London, and served with the British East India Company, eventually becoming governor of Fort Saint George, Madras, in 1687. He amassed a great fortune from trade and returned to England in 1699. Yale became known as quite a philanthropist; upon receiving a request from the Collegiate School in Connecticut, he sent a donation and a gift of books. After subsequent bequests, Cotton Mather suggested the school be named Yale College, in 1718.
A statue of Nathan Hale stands on Old Campus at Yale University. There is a copy of that statue in front of the CIA's headquarters in Langley, Virginia. Yet another stands in front of Phillips Academy in Andover, Massachusetts (where George H.W. Bush ('48) went to prep school and joined a secret society at age twelve).
Nathan Hale, along with three other Yale graduates, was a member of the "Culper Ring," one of America's first intelligence operations. Established by George Washington, it was successful throughout the Revolutionary War. Nathan was the only operative to be ferreted out by the British, and after speaking his famous regrets, he was hanged in 1776. Ever since the founding of the Republic, the relationship between Yale and the "Intelligence Community" has been unique.
In 1823, Samuel Russell established Russell and Company for the purpose of acquiring opium in Turkey and smuggling it to China. Russell and Company bought out the Perkins (Boston) syndicate in 1830 and moved the primary center of American opium smuggling to Connecticut. Many of the great American and European fortunes were built on the "China"(opium) trade.
One of Russell and Company's Chief of Operations in Canton was Warren Delano, Jr., grandfather of President Franklin Roosevelt. Other Russell partners included John Cleve Green (who financed Princeton), Abiel Low (who financed construction of Columbia), Joseph Coolidge and the Perkins, Sturgis and Forbes families. (Coolidge's son organized the United Fruit company, and his grandson, Archibald C. Coolidge, was a co-founder of the Council on Foreign Relations.)
DISCLAIMER The The philosphy of Locke, Rosseau, Fitche, Hegel and Kant cannot be assumed to be correct in the folowing paragraphs.
William Huntington Russell ('33), Samuel's cousin, studied in Germany from 1831-32. Germany was a hotbed of new ideas. The "scientific method" was being applied to all forms of human endeavor. Prussia, which blamed the defeat of its forces by Napoleon in 1806 on soldiers only thinking about themselves in the stress of battle, took the principles set forth by John Locke and Jean Rosseau and created a new educational system. Johan Fitche, in his "Address to the German People," declared that the children would be taken over by the State and told what to think and how to think it.
Georg Wilhelm Friedrich Hegel took over Fitche's chair at the University Of Berlin in 1817, and was a professor there until his death in 1831. Hegel was the culmination of the German idealistic philosophy school of Immanuel Kant.
To Hegel, our world is a world of reason. The state is Absolute Reason and the citizen can only become free by worship and obedience to the state. Hegel called the state the "march of God in the world" and the "final end". This final end, Hegel said, "has supreme right against the individual, whose supreme duty is to be a member of the state." Both fascism and communism have their philosophical roots in Hegellianism. Hegellian philosophy was very much in vogue during William Russell's time in Germany.
When William Russell returned to Yale in 1832, he formed a senior society with Alphonso Taft ('33). According to information acquired from a break-in to the "tomb" (the Skull and Bones meeting hall) in 1876, "Bones is a chapter of a corps in a German University.... General Russell, its founder, was in Germany before his Senior Year and formed a warm friendship with a leading member of a German society. He brought back with him to college, authority to found a chapter here." So class valedictorian William H. Russell, along with fourteen others, became the founding members of "The Order of Scull and Bones," later changed to "The Order of Skull and Bones".
The secretive Order of Skull and Bones exists only at Yale. Fifteen juniors are "tapped" each year by the seniors to be initiated into next year's group. Each initiate is given $15,000 and a grandfather clock. Far from being a campus fun-house, the group is geared more toward the success of its members in the post-collegiate world.
The family names on the Skull and Bones roster roll off the tongue like an elite party list -- Lord, Whitney, Taft, Jay, Bundy, Harriman, Weyerhaeuser, Pinchot, Rockefeller, Goodyear, Sloane, Stimson, Phelps, Perkins, Pillsbury, Kellogg, Vanderbilt, Bush, Lovett and so on.
William Russell went on to become a general and a state legislator in Connecticut. Alphonso Taft was appointed U.S. Attorney General, Secretary of War (a post many "Bonesmen" have held), Ambassador to Austria, and Ambassador to Russia (another post held by many "Bonesmen"). His son, William Howard Taft ('87), is the only man to be both President of the United States and Chief Justice of the Supreme Court.

2. Secrets of the "Tomb"
The Order flourished from the very beginning in spite of occasional squalls of controversy. There was dissension from some professors, who didn't like its secrecy and exclusiveness. And there was backlash from students, showing concern about the influence "Bones" was having over Yale finances and the favoritism shown to "Bonesmen."
In October of 1873, Volume 1, Number 1, of The Iconoclast was published in New Haven. It was only published once and was one of very few openly published articles on the Order of Skull and Bones.
From The Iconoclast:

"We speak through a new publication. because the college press is closed to those who dare to openly mention 'Bones'....

"Out of every class Skull and Bones takes its men. They have gone out into the world and have become, in many instances, leaders in society. They have obtained control of Yale. Its business is performed by them. Money paid to the college must pass into their hands, and be subject to their will. No doubt they are worthy men in themselves, but the many, whom they looked down upon while in college, cannot so far forget as to give money freely into their hands. Men in Wall Street complain that the college comes straight to them for help, instead of asking each graduate for his share. The reason is found in a remark made by one of Yale's and America's first men: 'Few will give but Bones men and they care far more for their society than they do for the college....'

"Year by year the deadly evil is growing. The society was never as obnoxious to the college as it is today, and it is just this ill-feeling that shuts the pockets of non-members. Never before has it shown such arrogance and self-fancied superiority. It grasps the College Press and endeavors to rule it all. It does not deign to show its credentials, but clutches at power with the silence of conscious guilt.

"To tell the good which Yale College has done would be well nigh impossible. To tell the good she might do would be yet more difficult. The question, then, is reduced to this -- on the one hand lies a source of incalculable good -- on the other a society guilty of serious and far-reaching crimes. It is Yale College against Skull and Bones!! We ask all men, as a question of right, which should be allowed to live?"

At first, the society held its meetings in hired halls. Then in 1856, the "tomb", a vine-covered, windowless, brown-stone hall was constructed, where to this day the "Bonesmen" hold their "strange, occultish" initiation rites and meet each Thursday and Sunday.

On September 29, 1876, a group calling itself "The Order of File and Claw" broke into the Skull and Bones' holy of holies. In the "tomb" they found lodge-room 324 "fitted up in black velvet, even the walls being covered with the material." Upstairs was lodge-room 322, "the 'sanctum sanctorium' of the temple... furnished in red velvet" with a pentagram on the wall. In the hall are "pictures of the founders of Bones at Yale, and of members of the Society in Germany, when the chapter was established here in 1832." The raiding party found another interesting scene in the parlor next to room 322.
Chief Geronimo
There was a rumor that one of the skulls in the room was stolen, the skull of Chief Geronimo.
Apache heirs sue Skull and Bones over remains: the suit alleges that members of Skull and Bones exhumed his remains in 1918 or 1919 and transported them to the society's High Street tomb in New Haven. The group that is rumored to have stolen Geronimo's skull, bones and other items from his grave site is said to have included Prescott Bush, father of former President George H. W. Bush '48 and grandfather to former President George W. Bush '68. Four individuals — named in the society's 2007 tax filings as directors of Skull and Bones's corporate parent, the Russell Trust Association — said they had no knowledge of the lawsuit.

11 Aug 2010 ... A student secret society at Yale University has won a court battle, at least for now, over remains of the Apache warrior Geronimo. Law Journal Report and the Yale Daily News Report
From "The Fall Of Skull And Bones":
"On the west wall, hung among other pictures, an old engraving representing an open burial vault, in which, on a stone slab, rest four human skulls, grouped about a fools cap and bells, an open book, several mathematical instruments, a beggar's scrip, and a royal crown. On the arched wall above the vault are the explanatory words, in Roman letters, 'We War Der Thor, Wer Weiser, Wer Bettler Oder, Kaiser?' and below the vault is engraved, in German characters, the sentence; 'Ob Arm, Ob Beich, im Tode gleich.'
The picture is accompanied by a card on which is written, 'From the German Chapter. Presented by D. C. Gilman of D. 50'."
Land Grants
Get Started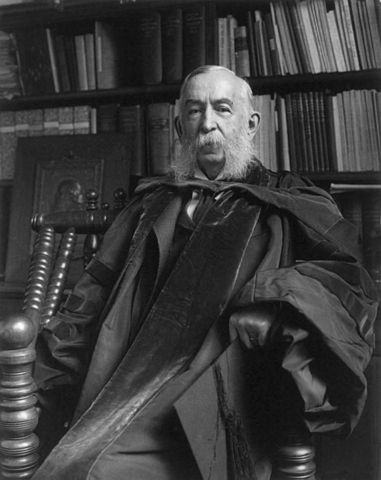 Daniel Coit Gilman ('52), along with two other "Bonesmen," formed a troika which still influences American life today.

Soon after their initiation in Skull and Bones, Daniel Gilman, Timothy Dwight ('49) and Andrew Dickinson White ('53) went to study philosophy in Europe at the University of Berlin. Gilman returned from Europe and incorporated Skull and Bones as Russell Trust, in 1856, with himself as Treasurer and William H. Russell as President. He spent the next fourteen years in New Haven consolidating the order's power.
Gilman was appointed Librarian at Yale in 1858. Through shrewd political maneuvering, he acquired funding for Yale's science departments (Sheffield Scientific School) and was able to get the Morrill Land Bill introduced in Congress, passed and finally signed by President Lincoln, after being vetoed by President Buchanan.
This bill, "donating public-lands for State College for agriculture and sciences", is now known as the Land Grant College Act. Yale was the first school in America to get the federal land scrip and quickly grabbed all of Connecticut's share at the time. Pleased by the acquisitions, Yale made Gilman a Professor of Physical Geography.
Daniel was the first President of the University of California. He also helped found, and was the first president of, John Hopkins.
Gilman was first president of the Carnegie Institution and involved in the founding of the Peabody, Slater and Russell Sage Foundations.
His buddy, Andrew D. White, was the first president of Cornell University (which received all of New York's share of the Land Grant College Act), U.S. Minister to Russia, U.S. Ambassador to Berlin and first president of the American Historical Association. White was also Chairman of the American delegation to the first Hague Conference in 1899, which established an international judiciary.
Timothy Dwight, a professor at Yale Divinity School, was installed as president of Yale in 1886. All presidents since, have been either "Bonesmen" or directly tied to the Order and its interests.
The Daniel/Gilman/White trio was also responsible for the founding of the American Economic Association, the American Chemical Society and the American Psychological Association. Through their influences on John Dewey and Horace Mann, this trio continues to have an enormous impact on education today.
Tracing Skull and Bones History
The Totenkopf is the German word for the deathman´s head
The Totenkopf is the German word for the deathman´s head [1] and an old symbol for the dead or the death. It consists usually of the skull and the mandible of the human skeleton. Beyond that it can include two crossed longbones (femurs). Use of the symbol as a military insignia began with the cavalry of the Prussian army under Frederick the Great.
Friedrich II.; 24 January 1712  – 17 August 1786) was a King in Prussia (1740–1772) and a King of Prussia (1772–1786) from the Hohenzollern dynasty.[1] In his role as a prince-elector of the Holy Roman Empire, he was Frederick IV (Friedrich IV.) of Brandenburg. The Hohenzollerns were the 15th dynasty to rule Germany and were related by marriage to all the others.
Lionel Nathan de Rothschild, Baron
Third Reich
(picture of Junkers Ju 88 of Kampfgeschwader 54 (KG 54) in France, November 1940)
In the early days of the NSDAP, Julius Schreck, the leader of the Stabswache (Adolf Hitler's bodyguard unit), adopted the Totenkopf to his unit. This later grew into the Schutzstaffel (SS), which continued to use the Totenkopf as insignia throughout its history. The British Army's Queen's Royal Lancers continue to use the skull and crossbones in their emblem, inherited from its use by the 17th Lancers - a unit raised in 1759 following General Wolfe's death in Quebec, with an emblem of a death's head and the words 'Or Glory' chosen in commemoration of him.
The primarily Prussian 41st Regiment New York Volunteer Infantry, Mustered in: June 6, 1861-Mustered out: December 9, 1865 wore a death's head insignia. New York Military State Military Museum. United States Marine Corps Reconnaissance Battalions use the skull and crossbones symbol in their emblem.
Skull & Bones Goes Co-ed 2006
http://yaledailynews.com/magazine/2006/04/18/rattling-those-dry-bones/
Eventually, a mail-in vote by most of the living members resulted in a 368-320 majority in favor of going co-ed. However, a cabal of Bones alumni had already prepared their next move. A group — including William F. Buckley '50 — filed suit against the society and received a temporary restraining order from the New Haven Superior Court. The legal controversy swirled around the nature of the society's bylaws. The Class of '91 claimed that since the formal rules fail to mention gender, the decision to tap women was solely in the hands of the current class of Bonesmen. The plaintiffs pointed out that when the bylaws were written, Yale was not a co-educational institution. Originally, there was no need to specify that the society wished to restrict its membership to males. With the threat of a lawsuit looming, Skull and Bones' national leadership arranged a meeting open to all of its living members.
With this decision, the clash between the Russell Trust Association and the Class of '91 once again exploded into a University-wide row. Prominent Bonesmen, including John Kerry '66, spoke out in favor of allowing women into their society's hallowed hall. The first signs of the Bones controversy even prompted Wolf's Head to consider a change in its policies. One of Wolf's Head's most prominent alumni and the president of the University at the time, Benno Schmidt Jr. '63, vowed not to return to his society until it agreed it admit women. Isolated by opinions both inside and outside of their tomb, Wolf's Head began moving toward a co-educational structure, which was formalized a few months later. By October, more than 100 Skull and Bones alumni gathered at their tomb on High Street to decide the future of their society.
After an all-night debate, the society voted 387-327 to accept the tap class of 1992. Buckley and his ilk maintained their lawsuit, but it eventually fizzled out in the face of renewed support from the Bones' alumni base. Opposition in Wolf's Head crumbled soon after; Yale's last formal bastions of male privilege had fallen. But more subtle obstacles remained. Shortly after the Skull and Bones affair was settled, construction of the Women's Table was postponed for lack of interest.
11/19/2003 A Call To Action For An Important Journalistic-Historical Project John Buchanan jtwg@bellsouth.net
On September 17, I became the first journalist in U.S. history to independently confirm and report in a reputable newspaper -- The New Hampshire Gazette, founded in 1756 and the oldest paper in America -- the Nazi past of the Bush family, via its 27-year business relationship with Nazi industrialist Fritz Thyssen from 1924 until 1951. Both Prescott Bush, the grandfather of George W. Bush, and George Herbert Walker, his maternal great-grandfather, were part of the partnership, under the banner of the private bank Brown Brothers Harriman.

Beginning in August 1942, those Nazi-front business assets were seized by the U.S. government under The Trading with the Enemy Act. The seizures continued until 1951, when Thyssen, the financial architect of The Third Reich, died in Argentina. It was the liquidation of those Nazi assets after Thyssen's death that were the foundation of the Bush family fortune.

Last March, Newsweek Polska, the magazine s Polish edition, published a brief but shocking story that linked the Bush fortune directly to slave labor at Auschwitz. The U.S. edition, as I reported in my first NHG story on October 10: http://www.nhgazette.com... spiked the story for reasons that have never been accounted for by Newsweek.

Since my discovery of the actual documents, many of which were only declassified and approved for public release on September 14 (four days before I got to the archives) virtually every major news organization in the U.S. has refused to investigate the Bush-Nazi story or even examine the documents. The list includes The New York Times, ABC News, Washington Post, Knight-Ridder Newspapers, Miami Herald, CNN, The Wall Street Journal and USA Today.

Despite the failure of the mainstream media to acknowledge my historic scoop, Associated Press put the story out to the world over the weekend of October 17-19, and it ran in major international newspapers including The Guardian (UK), Jerusalem Times and Ha'aretz (Israel), Hindustan Times (India), Sydney Morning Herald (Australia) and The Moscow Times (Russia).

However, liberal Bush-bashing columnist and author Joe Conason, author of 'Big Lies,' dismissed the Nazi allegations as a smear against President George W. Bush in The New York Observer. Cartoonist Garry Trudeau then weighed in with a Sunday Doonesbury. The Moscow Times ran a Prescott Bush Nazi parody. Howard Kurtz addressed my reporting and lack of wider coverage in his Washington Post media column.

Then, on November 17, noted Presidential biographer and Bush biographer Herbert Parmet put things into perspective with an essay at The History News Network at George Mason University:

http://www.hnn.us [ now redirects to http://historynewsnetwork.org/ ]

"We need to do more," Parmet wrote, "than merely sift through the essence of Buchanan's assertions, as troubling as they may be, to appreciate the value of his labors, and wonder at the contribution to public knowledge of Steven Fowle's maverick newspaper."

It is in that spirit that this undertaking is made. This is a challenge to deliver on his challenge to give wider voice to the facts.

Steve Fowle, the editor and publisher of The New Hampshire Gazette, and I are asking that interested journalists, editors, researchers and historians join us so that we, with our limited resources, can aggressively and accurately follow the Bush-Nazi story to its conclusion.

Specifically, we intend to prove the Bush family connection to slave labor at Auschwitz with documentary evidence and living sources.

In addition, we intend to prove that the Bush family fortune did indeed originate as blood money from its support of totalitarian, non-Democratic regimes that included Hitler, the Bolsheviks, Mussolini and Stalin.

The even larger issue, however, is whether this newly-confirmed information matters to the American people, the Congress and the media or not. We submit, based on the international reaction to date to my first three articles in the Gazette, that the American people have a right to know, on a major story national basis, of this troubling and until now secret chapter of U.S. history.

Do you agree? If you do, we must include your voice in the first media action we will soon be bringing (a barrage of incoming phone calls and e-mails demanding fair coverage of this story) in order to get the attention of the major news outlets.

If you agree the story is important, we also need your support in asking that Congress investigate the 60-year media cover-up of the Bush family history and its implications for the present and future.

If you do not agree the Bush-Nazi connection is important and relevant, please say so and state your reasoning. We welcome all opinions and points of view, including those of media and news executives from both the mainstream and alternative presses, on all sides of the debate.

Most important, however, we need to get to work on the next stories in the NHG. Please let me know what resources and/or contacts you can contribute, or what advice you have on how best to proceed with the systematic reporting of this information.

The critical story element now is the Auschwitz connection. To research and report that part of the story with the same document-supported, unimpeachable credibility as the first articles will be difficult at best. Please let me know your best ideas for pursuing it, both in the U.S. as well as Germany and Poland.

I will keep you all posted on developments over the coming days and weeks as the story develops and finds a wider audience, both here and abroad.

Ultimately, I trust, it is the American people and the people of the world not the media or politicians who will determine whether this discovery is truly important or not, and if so, why. For myself, I believe it is vitally important and terribly relevant.

I look forward to your insights, discoveries, revelations and reactions.

Thank you for your interest and support.

John Buchanan jtwg@bellsouth.net
TOM Journalist & Investigative Reporter
Banking on the Nazis II
I'll shortly be doing a review of a book I've been sent called "Fleshing out Skull & Bones" that has an in-depth chapter on the same story, a story that needs to get as much exposure as possible. I believe that the connections are far more wide-ranging than even Buchanan's piece reveals. In the story, by Toby Rogers that first appeared in Clamor Magazine May/June 2002 refers to the 1983 book by Charles Higham, Trading with the Enemy: The Nazi-American Money Plot 1933-1949. What follows is a précis of the chapter that along with other information, I hope to expand on further at a later date.

Along with the recently published documents long suppressed by the US government confirms the connections between Prescott Bush, Averell Harriman's bank and the Thyssen/Flich armaments empire and the profits generated from the slave labour used at Auschwitz concentration camp. Moreover, the millions made by Prescott Bush out of the Nazi connection were placed into a blind trust by former president George Bush for his son, the current president in 1980. Bush Senior's share came to around $1.5 million.

The father of Fritz Thyssen, August Thyssen started up Bank voor Handel en Scheepvaart in Rotterdam at the end of WWI. After the war ended Fritz's younger brother Baron Thyssen Bornemisza de Kaszon moved to Rotterdam and took over the running of the bank.

Railroad baron EH Harriman gave his son Averell Harriman an investment firm WA Harriman and Company, based in New York City. In 1922 Averell Harriman went to Berlin and set up a branch of the company there.

By 1923 the Germany economy was buggered and there had been a succession of Communist uprisings that was scaring the big capitalists shitless. Thyssen was introduced to Hitler by General Ludendorff and a meeting took place in Munich where Hitler told them that the Nazi party was broke and needed money to fight the 'Communist/Jewish conspiracy'. Thyssen gave Hitler 100,000 gold marks (around $25,000) and a number of other big capitalists also donated money.

In 1924, the Thyssens through Bank voor Handel en Scheepvaart opened the Union Banking Corporation. In the same year Hendrick J Kouwenhoven, the MD of the Bank voor Handel en Scheepvaart travelled to New York and together with Averell Harriman, they opened the New York branch of the Union Banking Corporation (UBC).

Walker and Harriman's firm sold around $50,000,000 of German bonds through the 1920s, profiting from the recovering German economy. Meanwhile Frtiz Thyssen formed the United Steel Works, the biggest industrial conglomerate in Germany. Thyssen also brought Freidich Flich (iron and steel) and another Hitler backer onboard.

In the same year (1926) George Herbert Walker bought his son-in-law Prescott Bush into the company, making him vice president of Harriman and Co. Walker hired Bush to supervise the new Thyssen/Flich United Steel works. One company in their empire was called the Consolidated Silesian Steel Corporation and another the Upper Silesian Coal and Steel Company both located in Poland near the future Auschwitz concentration camp.

Meanwhile Hitler's Nazi Party was broke once more, so in 1928 he approached Fritz Thyssen again and hit him up for a huge sum of money (estimates run between 250,000 and 1,000,000 German marks) to buy Barlow Palace in Munich and turn it into the Nazi Party Headquarters.

Then came the Depression and Harriman & Co merged with a London company, Brown/Shipley and Harriman & Co became Brown Brothers, Harriman. The firm moved to 59 Wall Street but the Union Banking Corporation remained at 39 Broadway. Averell Harriman and Prescott Bush formed a new company, Harriman 15 Corporation. One of the companies Harriman 15 Corp owned 1/3rd of the stock in was Consolidated Silesian Steel Company. The other 2/3rds was owned by Freidrich Flich.

In 1932 Fritz Thyssen joined the Nazi Party and by 1934 with Hitler firmly in power, he contracted the Thyseen/Flich empire to rebuild the German military machine. Thyssen and Flick were making money hand over fist and so was UBC in New York. Prescott Bush was made managing director of UBC and handled the day-to-day operations of the Thyssen/Flich empire. Then in 1934 the Polish government threatened to takeover the Consolidated Silesian Steel Corporation and the Upper Silesian Coal and Steel Company for non-payment of taxes and other corrupt practices. Bush hired John Foster Dulles to paper over the ripoff. But in 1939 Hitler invaded Poland and of course the takeover never occurred.
One of the reasons Auschwitz was built in Upper Silesia was because it was located near the vast coal deposits and one of the companies that employed the slave labour from Aushwitz was the Consolidated Silesian Steel Corporation. Then Thyssen and Flich sold Consolidated to UBC and under the total control of Harriman and Bush it became the Silesian American Corporation.
Not only did Prescott Bush's company employ slave labour, it also made the steel that killed Allied soldiers during WWII. Following the war, Prescott liquidated all the assets of UBC and related companies and used some of the ill-gotten gains to finance his bid for senate and some of it to finance Bush Senior's first company, Overby Development Company. The blind trust setup by Bush Senior was managed by his old buddy, William Farish Junior who on March 25th, 1942 pleaded "no contest" to conspiring with Nazi Germany while president of Standard Oil of New Jersey. Standard Oil opened a gasoline plant in Auschwitz in 1940. 
OF COURSE SKULL AND BONES WAS COMMON KNOWLEDGE
Batman's Bruce Wayne's great-grandfather founded Skull and Bones
BATMAN 1966 S01E33 Fine Finny Fiends - Season 1 - Episode 33"
ecp_url
Financial-Literacy/Skull-and-Bones-Introduction.html